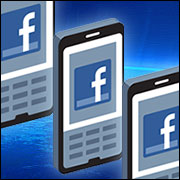 Facebook is a great company with a massive following — and a lousy stock price.
Facebook erred greatly when it priced its stock at US$38 per share for many reasons — not the least of which is that everything it will ever do will be viewed through that overpriced prism.
"If the stock had been priced at $10 per share, Facebook could have showed a 32 percent year-over-year growth for its first quarterly earnings, and the market would have stood up and cheered," Trip Chowdhry, managing director of equity research at Global Equities Research, told the E-Commerce Times.
As it happened, Facebook did show 32 percent growth, but all the market could do was focus on the stock's dropping valuation.
"When you price at $38 per share, you are literally saying that management is capable of performing miracle after miracle," Chowdhry said.
"The next three to six months — the short term — Facebook's price will be troubled," said Eric Steiman, portfolio manager at ES Capital Advisors and a Covestor model manager.
It could even go into the low teens, he said.
But if one puts aside the vexing issue of Facebook's stock price, the reality is that the company is not in a bad position at all, despite the lukewarm reaction to its earnings last week.
"Look, Facebook has more than 950 million users," Steiman said. "It is now just a matter of monetizing them."
Two to three years from now, the stock will have grown into its valuation, he predicted, and the company's current woes all but forgotten.
For the quarter, Facebook produced a non-GAAP profit of $0.12 per share and $1,184 million in revenue. Based on GAAP, it is reporting a loss of $743 million or a loss of $0.08 per share, primarily driven by share-based compensation expenses that it didn't recognize pre-IPO.
This is all good, though, said Andreas Scherer, managing partner with Salto Partners. "Facebook made its numbers."
That was essential for the market to trust it — it had to show it could execute on previously promised plans, he said.
Nonetheless, the conversation quickly shifted to Facebook's future — one in which it can't possibly meet current expectations — and its wobbly stock.
"Facebook has an extraordinary technology platform," Chowdhry said. "There I think Mark [Zuckerberg] is a true visionary in what he built. The problem is he is still executing on what was developed in that Harvard dorm. There is no sense of where else the company will go from that early promise."
Mobile Strategy and Other Plans
Facebook did paint a picture of where it is going, Scherer maintained.
"I did like that Mark Zuckerberg discussed the mobile strategy of his company right at the beginning of the call," he said.
"He acknowledged the importance of mobile for the future of his company. The company is heavily investing in this space," continued Scherer.
Weak Spots
Clearly, though, there are weak spots — very weak spots in some cases, Scherer acknowledged.
"[Zuckerberg] mentioned that they are working on a deeper integration between Facebook and Apple's iOS. This is very much needed, because the current Facebook experience on the iPhone is less than stellar," he said.
Facebook also said it will continue to buy companies to acquire talent.
However, "this can be truly a very expensive way to hire," said Scherer, "and even for a company with a $10 billion war chest, it is hardly sustainable."
Another issue is that in the online advertisement space Facebook doesn't have the market share one would expect from a site commanding a nearly 1-billion-strong audience, Scherer said.
"Why? It's very easy to ignore those ads. Hence, the idea to sell 'sponsored stories,' which are essentially ads in disguise. They appear in the news feed of a user. It makes sense to place these 'ads' in the news feed because there they are harder to ignore," he explained.
However, it's a thin line, continued Scherer. "If the news feed becomes too 'spammy,' users won't go there anymore. "
Facebook is placing great hope in the sponsored stories, though — at least judging by how many times it mentioned them during the earnings call. They came up 26 times, by Chowdhry's count.
"Focusing so heavily on sponsored stories is hardly visionary," he said.