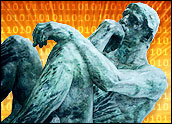 Virtually no one objects to the concept of adopting laws and policies to stem the tide of child pornography proliferating on the Internet. So, the announcement on Tuesday that Verizon, Time Warner Cable and Sprint Nextel have agreed to block access to Web sites that harbor such content was uniformly welcomed — even if the end result will be to keep just a small percentage of child pornography offline.
The Internet service providers will confront daunting technical and legal issues as they attempt to execute on their commitment. Depending on how a monitoring system is configured, it's very likely there will be either a large number of false positives or false negatives. That is, access to permissible adult content may be blocked, or access to child porn generated by computer-savvy producers may be allowed.
The biggest obstacle to successful implementation, however, could be a challenge based on First Amendment grounds. Although he considers it unlikely, such a challenge is possible, said David Eberhart, a partner in O'Melveny & Myers.
"Conceivably, the system could block access to [judicial] opinions about child porn, for example, that would be protected under the First Amendment," he told the E-Commerce Times.
Usenet's Underbelly
The fact that some child pornography was found on Usenet — a distributed Internet discussion system — makes the technical challenge of implementing the agreement more complicated, Eberhart added.
Usenet is more difficult to control because of the way it disseminates information, he explained. It is different from posting an article to a Web site that is controlled by one server.
Content on Usenet is distributed among a series of servers that forward posted messages. In other words, content is not hosted solely where it was originally posted, which makes blocking access a much harder task.
Some ISPs have indicated they might block access to all of Usenet for that reason, Eberhart said, which could open the door to a First Amendment challenge.
AG's Investigation
One factor working in favor of the ISPs is a system that New York State Attorney General Andrew Cuomo's office built for identifying online content that contains child porn — an ingredient essential to any long-term success.
The three ISPs agreed to the initiative under Cuomo's prodding. His office had conducted an undercover investigation that revealed newsgroups were a major source of online child porn. It identified 88 different newsgroups circulating a total of 11,390 child pornography images.
Cataloging Hash Values
These online pictures have a unique "hash value." That is, once an image is identified and collected, it can be digitally matched to the same image anywhere else it is distributed, according to the AG's office.
What the state did was build a library of hash values, thus allowing investigators to filter through tens of thousands of online files at a time. That is how the office was able to identify which ISPs were providing access to child pornography images.
The ISPs will also be aided by the National Center for Missing & Exploited Children, which regularly reviews and updates its registry of these illegal sites.
Still, to block access to these sites and the newsgroups, the ISPs will have to do far more than just implement straightforward image-filtering technologies, said Kevin Smith, senior vice president of LTU Technologies, which does work for the National Center for Missing & ExploitedChildren and other organizations.
Besides having accurate reference images of children who were compromised, he told the E-Commerce Times, the ISPs must calibrate the system's match-up so that there is not a preponderance of false positives or negatives.
"That will be very hard to do," Smith predicted.