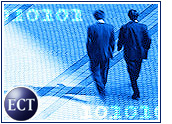 Digital Island, Inc. (Nasdaq: ISLD) slipped 0.09 to 4.66 Friday after thecompany said its president is leaving to join a venture capital firm.
Leo Spiegel said he will leave the San Francisco, California-based Internetservices company to take a position with Mission Ventures in San Diego, California and be closer to his family.
Chairman and chief executive officer Ruann F. Ernst will assume the title ofpresident, Digital Island said. Vice president Chris Albinson will become chiefstrategy officer, assuming Spiegel's corporate development duties. Albinson has directed the company's acquisitions of SandpiperNetworks, Live On Line and SoftAware, as well as deals with Compaq, Intel,Microsoft, Sun Microsystems and Inktomi.
Though Spiegel is resigning from the company's board, he will serve aschairman of Digital Island's strategic advisory board.
"As Digital Island matures, it's less in need of the start-up counsel that Ican now share with some much earlier-stage companies," Spiegel said. "Iremain confident in both the strategy and management team of Digital Islandand look forward to working together in my new capacity as the chairman ofthe strategic advisory board."
Digital Island provides networking and content delivery services fore-commerce. The company reported a third-quarter loss of US$113 million, or $1.60 per share, compared with a loss of $22 million, or 62 cents, in the same quarter a year earlier. At the same time, revenue climbed to $24.1 million from $4.9 million.
Ernst said the company has almost 1,000 customers, with large and mid-sized companies accounting for 75 percent of revenue.
Digital Island is predicting a fourth-quarter loss of $1.80 to $1.85 per shareon revenue of about $31 million, and says it expects to break even beforeextraordinary items in the quarter ending in December 2002.