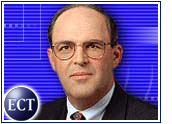 Microsoft (Nasdaq: MSFT), Compaq Computer Corp. (NYSE: CPQ), and Intel (Nasdaq: INTC) announced Tuesday that they are teaming with San Francisco, California-based Digital Island to build a streaming video network.
The companies say that the network will provide broadcast-scale streaming media for the first time over the Internet, with a reach "roughly comparable" to that of a prime-time TV program.
According to Greg Howard of the High-Tech Resource Consulting Group, "This relationship is creating a win-win solution in deploying a streaming network capable of delivering 7.5 million simultaneous streams. Digital Island is poised to take advantage of the rapidly growing streaming market."
Targeting Business
The coalition is targeting e-business with the new network, which Digital Island says will accelerate the market opportunity for online companies using rich media for Web-based customer transactions.
The project, an expansion of Digital Island's existing infrastructure, is expected to take place over the next two years and greatly increase the streaming and transactional capacity of Digital Island's high-performance network. In addition to providing companies with streaming media capabilities, Digital Island also offers networking, hosting and application services.
Digital Island Chairman and CEO Ruann F. Ernst said, "The Internet is all about interactivity, and e-business is about the end-user experience. Users want the most compelling interactions, which means rich media must be a part of the experience."
Inside the Deal
Compaq, Intel and Microsoft will make a combined equity investment of $45 million (US$) in Digital Island to support its infrastructure development.
Additionally, Compaq Financial Services (CFS) will provide $50 million in equipment lease financing to Digital Island, to expedite their worldwide deployment of Compaq servers. This financing support is expected to continue as Digital Island extends its reach into more than 25 countries in North America, Europe and Asia.
CFS will also provide up to $50 million in lease financing to qualified Digital Island customers.
Technical Details
The new servers will run on Compaq equipment, support Microsoft's Windows Media platform, and include integrated digital rights protection for streaming and downloadable content. Each of the up to 8,000 Compaq servers that Digital Island has committed to acquiring are able to handle up to 9,000 concurrent streams.
Having Microsoft in the mix will give Digital Island the ability to deliver video content utilizing Microsoft's increasingly popular Windows Media Platform. Digital Island is already deploying servers for video streaming technology by Apple Computer and Real Networks, who are joining forces.
Last week, market leader Real Networks announced that it had entered an agreement with Apple to provide cross-platform video streaming between the RealServer 8 and Apple's QuickTime player.
Jupiter Communications predicts that the global market for streaming media content delivery will grow from $78 million in 2000 to $2.5 billion by 2004.