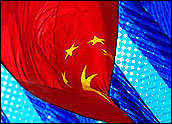 Digital Island, Inc. (Nasdaq:ISLD) was one of the Nasdaq's few technology winners Monday, rising 1 7/32to 7 13/16 following news of an alliance with Chinese telecommunicationscompany Jitong Communications, Inc.
San Francisco, California-based Digital Island, which provides Internetcontent, network and hosting services, said it allied with Jitong in a venture to serve companies in mainland China.
Jitong will offer its customers Digital Island services including contentdelivery, network and hosting services. The agreement, which Digital Islandsaid is the first of its kind in China, should "dramatically improve" Webperformance in the region.
Digital Island said its Footprint network, which allows common Web pages tobe stored locally and traffic to be routed efficiently, will avoid theInternet bottlenecks that have characterized Internet performance in China.According to the company, users in China have had to use service or routersin the United States and Europe, tying up lines and degrading performance.
Digital Island chairman and chief executive officer Ruann F. Ernst said theagreement "accelerates" the company's progress in Asia.
"This alliance fitsperfectly with our long-term strategy to develop creative and cost-effectiveways to quickly extend our network," Ernst said.
Jitong Communications chairman and president Qi Mingqiu said the alliancewill allow his company "to provide a level of quality and breadth ofservices and products that are unmatched by any of our competitors intoday's Chinese data communications market."
Jitong will work with Digital Island to design and build data centersthroughout China. The centers, designed to Digital Island's specifications,will be owned by Jitong.
Digital Island, meanwhile, is expected to benefit from Jitong's presence in more than76 top Internet access points in major Chinese cities. The companies willalso refer customers to each other, giving Digital Island openings in keycities like Hong Kong, Shanghai and Beijing.