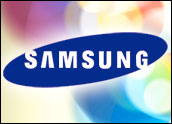 As Apple and Samsung continue to fight out their patent dispute in court, Samsung has opted to publicize information that the judge refused to allow jurors to see, according to an AllThingsD report.
The high-profile trial started Monday in San Jose, Calif., and will determine whether Samsung copied Apple's designs for its smartphone and tablet devices. Parties are also debating whether Apple has infringed on some of Samsung's wireless technology patents.
Before the opening arguments could begin Monday, a Samsung lawyer reportedly asked Judge Lucy Koh to hear arguments and allow a slide that allegedly shows Samsung had smartphone prototype designs, including one for a phone named "F700," in the works prior to the iPhone's unveiling in early 2007.
Koh had previously denied motions to use that evidence in court, and the Samsung lawyer's final argument did not change her mind. So Samsung took matters into its own hands, releasing the information to the public. Samsung claimed it was unfair that Apple was able to argue that Samsung's phones were iPhone copies while the South Korean company could not argue it was already working on what it claims is a similar-looking smartphone in 2006.
Neither Apple and Samsung responded to our request for comment.
Taking Risks
In such a high-stakes battle, any conclusive information that shows one party is infringing on rights can be critical, said Ray Van Dyke, an IP consultant and patent attorney in Washington, DC. That's specially true if one company can prove the other is knowingly infringing, he said.
"A smartphone does not have to have particular features, such as patented features," Van Dyke told the E-Commerce Times. "Companies put these features in because they want to entice more users. Sometimes companies ignore the intellectual property of other companies for this very reason — it is best to get out there with a feature and risk infringement, than be considered a less-than-cutting-edge company."
However, even if Koh hadn't already denied use of the evidence in court, she was unlikely to be swayed on opening day of the trial, said Douglas Panzer, corporate counsel at The Neat Company. With the late entry of evidence, Apple would not have had time to investigate the information and verify it, giving the Cupertino company a disadvantage when dealing with that particular slide.
But Samsung did not want to accept that ruling, so it released the information itself — a big risk to take in this case, said Panzer.
"This is an incredibly bold move by Samsung's lawyers," he told the E-Commerce Times. "They couldn't get the evidence into the trial, but they clearly think it's important enough that they risked major sanctions to get the word out about it.
It may not have been enough to draw legal consequences for Samsung's team. However, it probably won't do any favors for the lawyers in Koh's eyes, especially in such a contentious and high-profile case, said Panzer.
"The Samsung attorneys likely won't be held in contempt, but the judge may try to find a way to make a contempt finding," he said. "That could allow for all kinds of sanctions. Whether Judge Koh has the power to put forth any sanctions with teeth is to be determined. But I'm willing to bet she is going to find some way to slap Samsung's lawyers for this."
Going for Public Sympathy
That could be worth it for Samsung if it can get public, or even juror, sympathy on its side, said Panzer. Jurors are only supposed to be swayed by the arguments inside the courtroom, and that's generally not a problem in ordinary cases. In this case, though, details from outside the trial will be on full display in different media accounts, which could ultimately change their opinion in Samsung's favor.
"The judge will tell the jury not to read the paper or the Internet about the case, but she won't know if they will follow her instructions," she said. "If a single juror reads detailed information in the public press about excluded evidence, it could accomplish a complete end-around of the judge's evidentiary ruling."