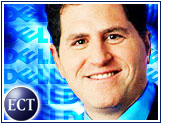 Dell Computer Corp. (Nasdaq: DELL) was at US$26.75 early Friday, up 81 cents, following reports that the computer maker expects sales to meet its original forecasts.
Chief executive officer Michael Dell reportedly predicted revenue for the year ending Friday will be $32 billion, the level the company had forecast before a January 22nd warning of a potential shortfall.
Speaking at a conference in Copenhagen, Denmark, Dell reportedly said sales of the company's servers were strong.
Last month, Dell said operating results for the fourth quarter would be below previous expectations because of "deterioration in global economic conditions and overall demand for computer systems and services." The company cut its revenue forecast for the quarter to between $8.5 billion and $8.6 billion, from an original $8.7 billion.
Dell's third-quarter results were above expectations, though revenue growth slowed from previous quarters as demand for personal computers fell.
Rival computer maker Compaq (NYSE: CPQ) has already reported a stronger-than-expected fourth quarter.
Last month, Compaq said that despite weak personal computer sales in North America, the company was able to come in ahead of forecasts because of strong demand for enterprise systems and solid growth in overseas markets.
Like Dell, Compaq had warned that slowing PC sales would cut into fourth-quarter results.
Sales of personal computers dropped in December for the fifth month in a row, falling 24 percent from a year earlier, according to a report earlier this year from research firm PC Data. A spike in sales just before Christmas failed to do much good, the firm said.
A slowing economy, higher prices and the absence of big rebates offered last year by Internet service providers cut into sales, according to the report.