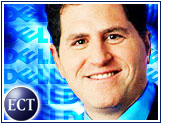 Dell Computer Corp. (Nasdaq: DELL) announced Wednesday that it will be entering the business-to-business (B2B) arena with a new online marketplace targeting small and midsize businesses.
The exchange, dubbed Dell Marketplace, will allow customers to purchase Dell PCs, notebooks, servers and related information technology equipment, as well as office products from select suppliers.
"More and more of our customers are turning to the Internet as a primary channel to purchase the goods and services needed to conduct their businesses," said Joe Marengi, senior vice president and general manager of Dell Relationship Group.
Dell expects the site to be operational by the end of October.
Vendors Lining Up
So far, Pitney Bowes, Motorola and 3M plan to sell their own products directly to customers via Dell Marketplace. According to Dell, participating third-party vendors must adhere to Dell's service guidelines.
The direct-sale computer giant believes the new exchange will allow its third party vendors to tap into its successful online business model. Dell's main retail site, Dell.com, is one of the most heavily trafficked e-commerce sites on the Web, racking up an estimated $50 million (US$) in sales every day.
The company also provides tens of thousands of its largest business clients with customized Web sites where they can configure merchandise, and place and track orders with Dell directly.
Winning Combination?
Although Dellmarketplace.com represents another purchasing channel for its business customers, Dell will not actually sell the third-party products itself. Instead, the individual marketers will handle the transactions.
Rather than generate revenue from selling the products, Dell executives said they initially plan to charge transaction and hosting fees from suppliers on the site. The size of the transaction fee will vary by product.
Customers will primarily benefit from the exchange's simplified interface, which will allow them to bundle orders from Dell and its complimentary suppliers into a single purchase. The marketplace will also connect buyers and sellers of finished office supply and computer products.
Dell also said the site will eventually carry chemical and cleaning supplies for business use.
E-Commerce Design
Dellmarketplace.com was designed in conjunction with B2B commerce platform company Ariba, e-marketplace consulting company Lante, and e-commerce software developer Enterprise. The new site will allow marketers to set up workflow rules, route orders and analysis of purchasing data.
The software will also enable marketers to create virtual showrooms. The showrooms will allow the vendors to display product features and benefits, in addition to prices.