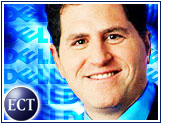 Dell Computer Corp. (Nasdaq: DELL) wasdown US$1.38 at $24.25 early Monday after the computer maker said operatingresults for the fourth quarter will be below earlier expectations because of "deterioration inglobal economic conditions and overall demand for computer systems andservices."
Austin, Texas-based Dell added that unit shipments grew at four times the industryrate, and revenue growth will be "strong" for the quarter.
"This performance clearly distinguishes us from other computer-systemscompanies, given current realities of the global economy andcomputer-systems market," said chairman and chief executive officer MichaelDell.
Dell added: "Customer preference for direct relationships continues to grow, andwe're extending our price leadership, regardless of the economicenvironment."
Revenue for the quarter is likely to total $8.5 billion to $8.6 billion, up16 to 20 percent from a year earlier. The company had previously predicted revenue of $8.7 billion.
However, earnings per share were set to end up at 18 to 19cents, up 25 to 27 percent from a year earlier, but below the 26 cents pershare previously projected.
Shipments for the quarter are likely to be up more than 40 percent from ayear earlier, Dell said, thanks to strong growth in servers, storage products andworkstations, in addition to notebook computers.
Dell said it will continue to "aggressively manage its already lean coststructure" over the next year.
"We are bringing the full competitive force of our direct business model tobear on the marketplace to benefit customers, accelerate market-share gainsand position Dell for profitable, long-term growth at a multiple of theindustry rate," he said. "We intend to succeed on all counts."
In the third quarter, Dell beat analyst estimates, but saw its revenue growth rate slow to about 20 percent fromits previously torrid pace of 40 to 50 percent amid a slowdown in demand forpersonal computers. Other computer makers have run into similar problems.