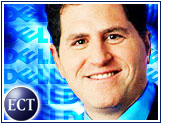 Michael Dell, founder and chief executive officer of Dell Computer Corp. (Nasdaq: DELL), told an audience at his company's DirectConnect customer event in Texas on Thursday that businesses have failed to maximize productivity and profits from the Internet.
Dell was reacting to a study, co-sponsored by his company and the Center for Research in Electronic Commerce at the University of Texas at Austin, that was critical of most business Web sites and their lack of services.
Companies must "systematically and radically improve how they conduct all aspects" of their online operations, especially in the area of Internet integration, according to Dell.
Higher Standards Unmet
The study found although that 74 percent of business Web sites provide basic information about their company's product, the positive numbers decline quickly when it comes to more sophisticated functions.
Approximately 55 percent of business Web sites allow online customization of products, while 47 percent let customers check the status of their orders.
"As a whole, I give businesses about a C-minus on Net integration because, on the whole, companies have only done the easy stuff," Dell said.
Dell Plugs Dell
In his address, Dell highlighted a system used by his own company as an example of how businesses can use the Web to increase integration and cut costs. This internal program gives his company a direct Web connection to suppliers, allowing Dell to hold less inventory.
Dell Computer, the world's leading direct computer systems company, racks up about $50 million (US$) in sales every day through its Web site.
"Internet integration to meet operational objectives does lead to improved financial performance," added Dell. "The larger a company is, the more it has to gain by integrating the Internet into its objectives."
Automakers on the Web
Later at the conference, Jacques Nasser, chief executive officer of Ford Motor Company (NYSE: F), made a brief appearance on stage to talk about his company's latest efforts at Web integration, known as Ford Direct. Under this program, customers can buy, finance and schedule vehicle delivery, all through their browser and without ever having to haggle.
"We want to move from a transaction-based model to a relationship-based model," said Nasser, "and the Internet gives us the ability to do that seamlessly."
Ford is not the only automaker going down this road. Earlier this week, General Motors (NYSE: GM) launched its own e-commerce operation. Additionally, Ford, DaimlerChrysler, General Motors, Nissan and Renault have combined to build Covisint, an online auto purchasing exchange that will include services to assist in product design, supply chain management and procurement functions performed by auto manufacturers and their suppliers.