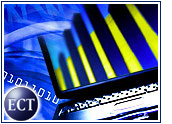 More people are shopping online but are spending less money per person, according to numbers released Friday by the National Retail Federation (NRF) and Forrester Research (Nasdaq: FORR).
According to the numbers — which Forrester has been releasing each of the past nine months as part of the NRF/Forrester Online Retail Index — 15.5 million U.S. and Canadian households made at least one online purchase in September, up from 15.1 million the previous month.
However, shoppers spent a total of $4.22 billion (US$) on Internet purchases in September, just below the $4.24 billion spent in August. The average total amount purchased over the Web dropped to $272.42 in September from $280.41 in August.
Small In Scope, High In Quantity
The survey revealed that consumers are eschewing larger purchases for smaller-scale ones such as school and office supplies, gardening equipment, and clothing. The decline in those purchases could be a result of seasonal changes, Forrester said.
"The data from the September Index clearly indicates that the Internet continues to grow as a shopping channel," said NRF vice president of Internet retailing Scott Silverman. "The significant growth in apparel and office supplies in this month's Index validates 'back-to-school' as a viable online shopping season."
Among the worst-performing online sales categories were consumer electronics, whose sales fell from approximately $209.1 million in August to $164.6 million in September; computer hardware, which fell from approximately $430.6 million to $315.6 million; and furniture, which tumbled from $45.2 million to $32.4 million.
Some small-ticket categories also experienced a drop. Besides sporting goods and tools and hardware, music and videos also saw sales drop from August to September.
Continuing Trend
September's numbers continue a recent trend. In August, online sales increased to $4.2 billion from $4 billion in July, even though the average consumer expenditure dropped about $10 from the previous month.
In that month's study, clothing and footwear were among the categories with the highest growth, while sporting goods, tools and hardware had already begun their seasonal decline.
The NRF/Forrester Online Retail Index is based on 5,000 responses from online shoppers to an online panel developed by Greenfield Online, a market research firm.