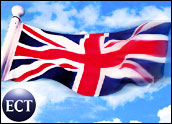 British businesses are holding their own in key areas of adapting Internet technologies, and are ahead of its European competitors in Germany and Sweden in terms of engaging in e-commerce, according to a report released Tuesday by Britain's Department of Trade and Industry.
According to the study, which was unveiled by Britain's e-commerce minister Patricia Hewitt, 27 percent of businesses in the UK are now doing some form of trading online, a number that puts it on par with American and Canadian rates of e-commerce.
Furthermore, the report found that 81 percent of businesses in the UK are connected to the Internet, up from 66 percent last year. Eighty-three percent of American businesses and 80 percent of German businesses are online.
Hewitt also said that small and medium-sized operations are in many ways leading the charge to connectivity; some 450,000 of these companies are now trading online, although the government has set a target of having 1.5 million businesses conducting business over the Internet by 2002.
Internet Mentoring Initiative
As part of achieving the goal to get more businesses online and into the e-commerce arena, Hewitt announced a program called the "Internet Mentoring Initiative," which is designed to give companies customized advice on featuring their wares on the Web.
"E-commerce affects every part of our economy," said Hewitt. "Businesses have told us what they want and need. The Internet Mentoring Initiative will help them to achieve their e-goals and help make the UK the best place in the world for doing business electronically," Hewitt added.
Lagging in Some Areas
Still, all is not rosy for Britain's Internet economy. The study, which can be viewed at the government's UK Online for Business Web site, also revealed that just 55 percent of the UK's micro-businesses and 70 percent of small businesses are online, ranking it fifth among nations studied.
"We must continue to build on this and work toward our target of getting one million SMEs trading online. The challenge for businesses now is not simply to get connected but to succeed in the online world using the new e-business practices," said Hewitt.
Questions About Definitions
Meanwhile, some observers questioned the report's numbers, suggesting that the government's definition of "connected" is too broad and includes companies that have Internet access but do not use it to do much — if any — business. The report considers a business as being online if it regularly uses e-mail, which alone does enable e-business.
Others critics have pointed out that just over 50 percent of UK businesses have Web sites, a prerequisite for doing business on the Internet.