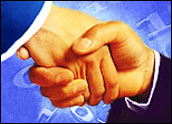 Value America, the Internet retailer that once hoped to become the Wal-Mart of the Web by selling everything from low-end cosmetics to high-end electronics, has announced the sale of its electronic services business to Merisel, Inc.
Value America filed for Chapter 11 bankruptcy protection on August 11th, when the firm's executives realized that they lacked the capital to maintain business operations. At that time, the company shut down its retailing sector and laid off 185 employees, announcing that it would become an electronic services business.
E-Commerce Turmoil
Over the past year, the company has been a textbook case of an e-commerce site in turmoil, suffering upheavals in management, revisions of business plans and rounds of layoffs.
"In the months since we assessed that company financial resources were not sufficient to fund an ongoing e-retail business, we have moved steadily toward successfully leveraging the company's assets, allowing an acquiring company to build upon our expertise in e-commerce," said Glenda Dorchak, chairman and CEO of Value America.
With the Merisel deal, the company has met its time-table for finding a buyer. "Two months ago we said we were on a 60-day schedule to locate an investor or acquirer for this business," Dorchak said. "We are pleased this development meets the schedule we set for ourselves, and hope to be able to close the transaction in early November."
Terms of the deal were not disclosed, though Merisel is acquiring most of Value America's assets as well as assuming some of the company's liabilities.
As Merisel takes over the reins, it will retain the majority of the Value America employees involved with the defunct company's e-fulfillment business, Dorchak added.
Electronics Distribution
Under the terms of the proposal, Merisel will acquire most of Value America's assets and employees, and will launch an Internet fulfillment and services business in 2001. Merisel, based in El Segundo, California, is a full-line distributor of technology products throughout North America.
Until now, Value America has been providing Internet-based infrastructure systems for third-party manufacturers, vendors and distributors, enabling online order fulfillment, payment and product delivery, according to a company release.
"The potential acquisition of the Value America assets blends well with our future strategies" said Merisel CEO David Sadler.
The agreement must still be approved by the U.S. Bankruptcy Court for the Western District of Virginia, where Value America filed for Chapter 11 bankruptcy protection. The company also filed a motion for the approval of the sale Friday, it said.