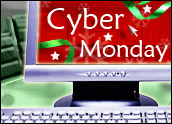 This Cyber Monday, retailers of every stripe ran countless ads proclaiming the big shopping day's special deals — including this one: A Nikon D3200 Two Lens Zoom Kit, originally priced at US$799.95, marked down to $499.95.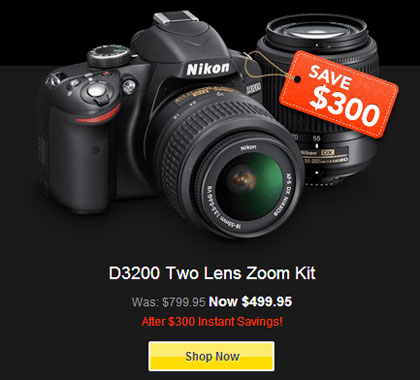 Sounds good, right? We thought so too, but try as we might, we couldn't secure the camera at the deal price.
And we tried.
The ad, which was one of several Cyber Monday Deals advertised on the NikonUSA website, was already displayed the Sunday before. Although customers could purchase the D3200 camera directly through the site — for about the same price as the two-lens bundle — buyers interested in the Cyber Monday special offer were directed to specific retailers. As of Sunday afternoon, none seemed to have it in stock — and at least one described the product as "discontinued by the manufacturer."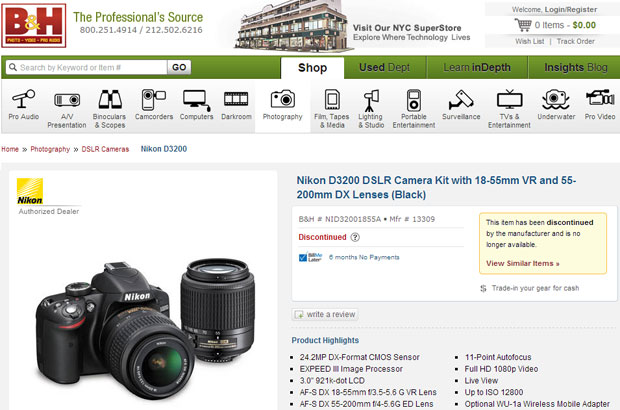 Well, we thought, perhaps the deal wouldn't go live until Monday — after all, it was not advertised as a "Cyber Sunday Deal." But no. On Monday, the ad was still there, but the camera kit was just as unavailable. It was still "out of stock" or "discontinued by the manufacturer" at all of the retailers NikonUSA referred us to for the online sale. It was supposedly available for in-store purchase at Best Buy, however.
That wasn't our idea of a "cyber" deal, but determined to find it somewhere, we started punching in ZIP codes for Best Buy stores. It was unavailable at all 10 of the Best Buy stores in a Washington, D.C., ZIP code we checked. Likewise, it was unavailable at all 10 of the Best Buys in the suburban Chicago ZIP code we checked. It was unavailable at all 10 of the Best Buys in a Southern California ZIP code. This offer was starting to look like a vapordeal.
Not that we couldn't find the two-lens camera kit in stock — in fact, we did. It was available at Amazon, eBay, and a host of third-party sellers — but only for a much higher price.
Suspicions Aroused
Was this a poorly planned promotion? Was demand perhaps much higher than anticipated? Or might the manufacturer and/or retailers have engaged in some sleight of hand? It is a time-honored tradition during the Thanksgiving shopping weekend to advertise a limited supply of doorbusters with the goal of attracting shoppers.
Stumped, we turned to Nikon for answers.
This particular D3200 offer was a deal that began on Black Friday and would run through Cyber Monday provided inventory would allow, according to Nikon.
"It turns out that inventory on this particular product sold out through the weekend," the company said in a statement provided to the E-Commerce Times.
However, the Nikon ad wasn't for a "Black Friday and Maybe Cyber Monday Deal, Supplies Permitting" — it was for a Cyber Monday Deal. Period.
The Nikon D3200 two lens kit special was available at the Nikon Store, as well as at a broad base of retailers including Best Buy, Target and Amazon, Nikon maintained. The offer was also available through Nikon's own Image Shop on the Cyber Monday page.
By Nikon's own admission, though, the advertised Cyber Monday Deal was not available on Cyber Monday.
Nikon declined to say how many of the units traded over the weekend at the advertised price, saying it does not disclose its sales numbers. It couldn't offer a raincheck for shoppers, it said in a statement to the E-Commerce Times, because "the special is based on inventory availability, and we're not able to take orders for products that we cannot deliver."
It's unclear why Nikon's inventory was so challenged. Nikon didn't stop offering the D3200 camera or the extra lens included in the kit — it just stopped offering them as a bargain bundle.
Maybe it ran out of boxes.
Cyber Monday Madness
Cyber Monday was, by all measures, an enormous success, especially when compared to the lackluster Black Friday shopping weekend.
There was an 18 percent increase in this year's Monday online sales, compared with 2012, for a total of $1.74 billion, ComScore reported.
Those sales were preceded by very aggressive advertising — from email marketing to online ads to social media specials for fans. So aggressive, that one can assume lines were crossed either inadvertently or on purpose.
In many cases, retailers simply were trying to be as competitive as possible. If everyone else was offering a deep discount, then clearly they would have to as well if they wanted to emerge intact. If some of the deals didn't pan out, well, chalk it up to Cyber Monday Madness.
Darrin C. Duber-Smith, a marketing professor at the Metropolitan State University of Denver, has a less kind interpretation.
"It is bait and switch," he told the E-Commerce Times, speaking generally and not about the Nikon promotion. "I see it all the time, and it is definitely prevalent over Black Friday-Cyber Monday."
Retailers would take umbrage at this characterization, Duber-Smith continued, noting that they prefer the less inflammatory "loss leader pricing" term.
"In fairness, it is very difficult to prove anything is bait and switch," he added. "That goes to the intent of the retailer." So a retailer that only puts aside 1,000 or even 500 items of a doorbuster sale still is able to cover itself, legally, by advising shoppers that "supplies are limited."
On Cyber Monday, though, supplies of Nikon's advertised D3200 Two Lens Zoom Kit Cyber Monday Deal were nonexistent.
"Retailers can't lie in an ad," said Duber-Smith, "but by saying there is limited supply they have a lot of leeway." The burden of proof "falls to the consumer."
There are shades of gray, he acknowledged. Clerks — especially temporary ones brought in for the holiday period — may not be up to speed on all the inventory.
"I do think a lot of misunderstandings happen that way," Duber-Smith said.
Leeway for Error
The potential for retailers to make honest mistakes is far greater than consumers might realize, said John Talbott, associate director of the Center for Education and Research in Retailing at Indiana University's Kelley School of Business.
"A very tiny subset of non-credible retailers purposefully advertise specials that are barely in stock," he told the E-Commerce Times. Sometimes, retailers with less-sophisticated inventory control software inadvertently advertise products that are not available.
However, "large publicly traded retailers do their best to fulfill their promise to be able to deliver on the bargains or grand deals they offer as they know that this is just one of many transactions they may be conducting with a consumer and very much want to develop a positive long-term relationship," Talbott said.
"Sure, these deals are intended to get consumers to shop, but the retailers intend to deliver on their promise," he maintained, "and when they fail, it is most often a systemic issue or poor demand estimation as opposed to deception."