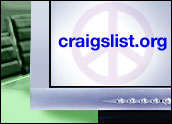 In an abrupt about face, Craigslist has announced it will take down its "erotic services" ad category. In its place will be a new adult services section that will be screened by Craigslist staff before publication, according to a statement made by Connecticut Attorney General Richard Blumenthal, who is head of a multistate attorney general task force investigating the controversial issue.
To recap the run-up of events: Craigslist came under fire for its "casual encounters" and "erotic services" sections on the site following the arrest of accused Boston-area "Craigslist killer" Philip Markof. Several attorneys general including Blumenthal and, more recently, South Carolina AG Henry McMaster, contended that those sections housed de facto advertisements for prostitution.
Last week, McMaster ratcheted up the threat level by demanding that Craigslist dismantle the two controversial portions of its site. He gave the company 10 days to comply or be subjected to an investigation that could result in prosecution.
Standing Firm
As of last week, Craigslist appeared to be standing pat in its position, albeit with a conciliatory tone.
"craigslist has been working closely with law enforcement on these very issues, and by all objective measures has decreased misuse dramatically (approximately 90%) since craigslist and 43 attorneys general entered into a joint statement less than 6 months ago," reads a blog post on the site.
"Given the progress that has been made dealing with these tremendously complex issues in a very short time, and the ongoing collaboration between craigslist and law enforcement to make further improvements, we urge Attorney General McMaster to look closely at the facts before proceeding with his threat," the post continues.
In fact, two days after that post appeared, the Craigslist blog linked to an Electronic Frontier Foundation blog that explained that these AGs had no legal grounds to pursue prosecution.
The following day, the Craigslist blog noted that "when critics rush to tar craigslist as especially dangerous, it's important to put things in perspective. craigslist users have posted more than 1.15 BILLION classified ads to date, easily 1000x the combined total ever posted to the print publications involved in all of these 'print ad murders.'
"Anyone demanding that craigslist use the same protections that print classifieds have employed should be careful what they're wishing for — because the incidence of violent crime in connection with print classifieds is clearly far, far higher than it is for craigslist."
Buckling Under
That was then. This week, Craigslist apparently caved in to the demands for self-censorship — despite myriad legal opinions that the Communications Decency Act, among other statutes, provides Craiglist with immunity against lawsuits treating it as the publisher of content posted by third parties.
Indeed, as Craigslist implies in its most recent post on the subject, its acquiescence will likely open the door to similar demands in other mediums. Certainly, its new policy will also become a de facto standard of behavior on other Web sites — a point made by Blumenthal himself.
"Closing the erotic services section — a blatant Internet brothel — should lead to other blocking and screening measures, and set a model for other sites, if Craigslist keeps its word," he said.
Even in the immediate term, Craigslist does not necessarily come out ahead in this Faustian bargain. Blumenthal and other AGs will be monitoring Craigslist closely to make sure the measure is more than a "name change from 'erotic' to 'adult.'" The manual blocking must "scrub prostitution and pornography" from the site — a tall order, especially given the subjectivity that is part and parcel of any discussion of porn.
Destructive Tendencies
Will Craigslist satisfy the expectations of the attorneys general and agree to whatever their definitions of "pornography" and "prostitution" may be? If it doesn't, will it fight back or concede more ground?
This is not the first time, of course, that enforcement officials have tried to push the envelope with respect to Web 2.0 activities. In 2006, for example, the Bush administration demanded records from several search engines to build its case to reinstate the child-protection law, which the courts had deemed overly broad.
At the time, many attorneys held the view that the provision of such detailed records was not necessary for the court's purposes. Yet at least one search engine reportedly complied without requesting a subpoena or otherwise challenging the order.
Craigslist hardly stands alone when it comes to acceding to the demands of regulatory authorities — or even angry users.
Apple, for instance, is embroiled in a controversy about its procedures for screening applications for the App Store. Its supposed criteria for rejection are based on section 3.3.12 of the company's software development kit (SDK), which states applications must not contain "any obscene, pornographic, offensive or defamatory content or materials … or other content or materials that in Apple's reasonable judgement may be found objectionable by iPhone or iPod touch users."
Facebook is a prime example of a Web 2.0 company collapsing like a tent in a stiff wind whenever user complaints gain a critical mass. Two years ago, Facebook users protested a new feature that alerted members of every change to their friends' profiles. To be sure, this is a far more benign example of capitulation — indeed, a strong case can be made that it was a smart business decision to keep users happy.
Still, there's a larger question: Why do Web 2.0 companies in general appear to be extra-sensitive to outside pressures, bowing down when perhaps they shouldn't?
"It's true that we do see a lot of these sites responding faster when their users get upset" than perhaps a more traditional company would, Simeon Spearman, futurist with Social Technologies, told the E-Commerce Times. "That is related to the fact that Web 2.0, by nature, is built on direct communication between users and developers."
All of these sites understand that their success depends on keeping the crowd happy, he said.
"It's the nature of the medium," David Erickson, director of e-strategy for Tunheim Partners, told the E-Commerce Times.
The argument that Web 2.0 firms are not responsible for the speech of others but are simply a forum for other people to talk isn't always easy to hold onto, he said, especially when they're flooded with angry demands.