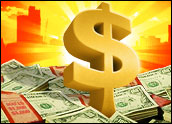 Cerberus Capital Management has put an offer on the table to takeAffiliated Computer Services private in a US$5.9 billion buyout. That translates to $59.25 per share, a 15.5 percent premium over the ACS closing price on Monday.
ACS, a provider of business process outsourcing and information technology solutions, has been a likely acquisition target for some time: It has been beleaguered by a backdated stock options investigation that cost the company millions of dollars and prompted the resignation of two top executives last year. Also, its image was tarnished after it languished on the market when it failed to be acquired by private equity investors at the end of 2005.
Stock Market Reacts
Little wonder then, that the market loves the proposed deal: Shares of ACS were up 16.8 percent to $59.91 a share on Tuesday after Dow Jones reported that the private equity fund and ACS Founder Darwin Deason planned to buy the company, Frederic Ruffy, an analyst with the investor education firmOptionetics, noted.
"The reaction in the market is interesting, because it has pushed the stock price above the takeover price," he told the E-Commerce Times. "This is somewhat unusual. Normally, one might expect to see the stock move higher, but not quite to the takeover price — since there is always a risk of a deal falling apart. In other words, uncertainty of a deal going through will often keep the stock below the takeout price."
In this case, it appears that investors are confident that ACS will fetch the full buyout price of $6 billion, he continued. The Dow Jones report indicates that Citigroup is funding the deal and has issued a letter stating that it is highly confident that it will obtain the necessary financing, Ruffy noted.
The Last Play
Cerberus began to investigate the possibility of acquiring ACS in November, according to the proposal that it filed with the Securities and Exchange Commission. However, there may well be other private equity firms waiting to make their own offers, Ruffy speculated.
"Some players might be anticipating a higher offer," he observed, "and that would explain why the stock is trading above the takeover offer."
Deason is working exclusively with Cerberus, according to the Dow Jones report, but he is expected to say he would respond to higher offers from others, Ruffy noted. Deason has a 40 percent stake in ACS and voting rights over a second class of stock.