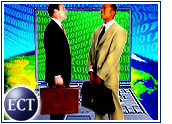 Comergent Technologies, a provider of sell-side business-to-business (B2B) e-commerce software, announced a deal with Commerce One (Nasdaq: CMRC) on Monday in which suppliers and their channel partners will have the opportunity to use Comergent's distributed e-commerce system to connect with buyers via Commerce One's MarketSite.
Under the deal, Comergent will provide interactive selling, marketing, and order management capabilities to the suppliers.
Comergent said that the deal would give suppliers using its system more control over their products and increased efficiency during the selling process.
Gartner senior research analyst Gale Daikoku told the E-Commerce Times that the agreement is probably a bigger deal for Comergent than it is for Commerce One. According to Daikoku, for Commerce One it was "nothing more than another marketing move."
Guided Tour
Comergent's suppliers will also gain access to buyer preferences and be able to deliver targeted marketing messages, the company said. In addition, Comergent is hoping that suppliers will gain access to some potential new customers via Commerce One's e-marketplace.
As for the buyers, Comergent said that they will benefit from the relationship by having access to a guided selling process that will help them find the right products, Comergent said.
"We believe that enabling suppliers to connect to Commerce One-powered e-marketplaces through the Comergent system will help create greater business efficiencies for companies seeking to move their businesses onto the Internet," said Stan Scardino, vice president of strategic alliances for Commerce One.
Missing Links
If Comergent hopes that the alliance with Commerce One will give its supply-side clients access to an integrated marketplace, it could be disappointed. According to Daikoku, it may take Commerce One a few years and "a lot of pain" to fully integrate its trading web.
"Is it actually fully functional?" Daikoku asked. "Probably not. I think it is forthcoming."
Daikoku said that Commerce One had been reluctant to provide data on the number of transactions being processed through its e-marketplaces. The analyst also said that Commerce One and other software companies have been working hard to differentiate themselves from dot-com pure plays because "they don't want to look like they are part of the dot-com downturn."
Money Train
Commerce One had some good news last month when SAP (NYSE: SAP) announced it would invest an additional US$225 million in the company, a move that increases the German software maker's equity stake in Commerce One to approximately 20 percent.
However, news of SAP's investment, which is expected to close in July or August, came on the heels of a warning by Pleasanton Hills, California-based Commerce One that second quarter revenue would be lower than expected.
Commerce One said it expects its second-quarter revenue to check in at $100 million to $120 million, well below the $170 million mark it achieved in the first quarter. The company posted an operating loss of $25 million in that quarter and a net loss of $228 million.
All the Lawyers
Commerce One has also been hit with a slew of lawsuits by unhappy shareholders alleging that the company violated securities laws by making false and misleading statements in its prospectus.
The suits seek to represent shareholders who bought Commerce One securities between July 1, 1999 and June 15, 2001. According to the complaint filed in the United States District Court for the Southern District of New York, the company's initial public offering (IPO) in July 1999 was tainted with material omissions and misrepresentations.