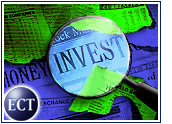 Commerce One (Nasdaq: CMRC) fell US$1.90 to $11.81 in morning trading Friday, after posting a widerfirst-quarter loss than a year earlier.
Reports said that company officials warned of a loss for the second quarter as well. Analysts at CIBC World Markets, UBS Warburg and SG Cowen were all said tohave downgraded Commerce One shares following the news.
The Pleasanton, California, business-to-business (B2B) marketplace companyposted an operating loss for the quarter ended March 31st, excludingacquisition costs, interest and other charges, of $25.5 million, or 11 centsper share, compared with a loss of $14.0 million, or 9 cents, in the samequarter last year.
The net loss widened to $228.5 million, or $1.02 pershare, from $43.6 million, or 29 cents. Revenue, however, rose to $170.3 million from $35 million.
Commerce One said it picked up 63 new customers during the quarter, for atotal of 567. Commerce One opened online marketplaces in China, Japan andGermany, while the company's joint venture with Germany's SAP AG signed new customers in Russia, Portugal, Switzerland and Poland.
"We believe the current pressure to improve productivity and profits playsdirectly into our value proposition as the e-marketplace company," saidCommerce One chairman and chief executive officer Mark Hoffman. "This is what is drivingthe demand for public and private e-marketplaces, and we believe CommerceOne is in the sweet spot to fulfill this demand."
Separately, Commerce One said it adopted a shareholder rights plan designedto ensure fair value in the event of a sale of the company. The plan is nota response to a specific takeover attempt, the company said.
Commerce One shares are down from a 52-week high of $84.13.