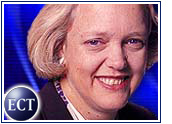 Adding to the recent wave of profitable earnings reports, eBay (Nasdaq: EBAY) announced Thursday that net income for its first quarter 2001 was US$21.1 million, or 8 cents per diluted share. The earnings beat analyst predictions.
San Jose, California-based eBay said that its pro forma net income of $30.6 million was a company record for a quarter.
eBay's net revenues of $147.4 million showed a 90 percent increase in year-over-year growthand 20 percent sequential growth from the $77.4 million reported in Q1 2000.
eBay also increased its expectations for the second and third quarters of 2001,saying that consolidated net revenues over the next two quarters could be asmuch as $10 million to $15 million higher than previously anticipated.
"Despite our optimism for the future, we will continue to watch for signs of adecrease in the consumer spending market," eBay chief financial officer Rajiv Dutta said. "But to date, we've seen no signs of such a slowdown, and seen strong buy demand across the online business.The overall business model is in very good shape and really hasn't changedin any way (since the IPO days)."
Momentum Builds
eBay president and chief executive officer Meg Whitman attributed the continued increase ineBay's trading velocity and success for the quarter to the increased penetration (30percent) of the Buy It Now service (which allows buyers to instantly buy anauction item), the new surcharge implemented on 10-day auctions, and theincrease in trading of higher priced items, such as automobiles.
eBay's gross margins rose 9 percent compared to the first quarter of 2000, reaching 82percent. The company said it expects its gross margins to remain above 80percent throughout 2001.
The company also said that it added over 7.2 million users during thequarter, to end the first quarter with 29.7 million registered users.
Shares of eBay closed at $49.99 on Thursday, up $4.24, an hour before the companyreleased the first quarter results. In after-hours trading, eBay had risen to $53.40, a 16.7 percent increase over the previous day's close.
Bigger Half.com
eBay also announced a move to significantly expand Half.com's existingmarketplace, introducing hundreds of new categories for buying and sellingnew, overstocked, remaindered and used products in four areas: consumerelectronics, computer equipment, sporting goods and trading cards. So far, Half.com has concentrated on books, music, video games and movies.
eBay chief executive officer Meg Whitman said that Half.com's fixed-price trading is one key to the continuedexpansion at eBay.
"This is a very important step for eBay," Whitman said. "Fixed-price trading is quicklybecoming an important part of eBay's global marketplace."
Branching Out
eBay's first quarter was marked by an attempt to establish astrategic network of partners throughout cyberspace.
In March, eBay announced several alliances, including a deal with Microsoftto integrate eBay's auction marketplace into selected Microsoft Web sites.In addition, under that deal, eBay agreed to use Microsoft's Passport and.NET products.
Other deals announced in March by eBay include a pact with Artnet.com, makingArtnet.com's fine art pricing database available to eBay Premier customers,and an alliance with Eppraisals.com giving eBay users access to professionalappraisers in the art and antiques categories.
International Push
eBay has also said that its goal is to be in 10countries by the end of the year and 25 by the end of 2005.
To that end, last month, eBay announced that it had launched new Web sites in Ireland,New Zealand and Switzerland. Also, in February, eBay inked an all-stockacquisition, estimated to be worth up to $112 million, to purchase Europeanonline auctioneer iBazar S.A.
"Our international sites may reach profitability sooner than we hadanticipated even six to eight months ago," Whitman said, adding that eBay Germany is the company's most mature,developed market.