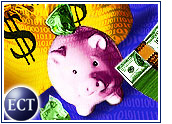 On Monday, Internet powerhouse eBay (Nasdaq: EBAY) and other prominent investors took a combined US$15 million stake in ReturnBuy.com, a company that resells returned goods for both e-tailers and retailers.
Ashburn, Virginia-based ReturnBuy.com said that by using online auction house eBay and other online channels to resell returned goods, it will be able to recoup three to five times more value for its clients than it can through traditional liquidation methods.
"It's a clear validation of our business to have such top-tier investors behind us," said Walt Shill, ReturnBuy.com president and chief executive officer.
Leading the funding round, which is ReturnBuy's second since its 1999 founding, was the ePlanet Ventures unit of Draper Fisher Jurvetson, a Silicon Valley venture capital firm.
Other investors include QVC co-founder Michael Boyd, Draper Atlantic, and Abacus, a fund associated with the Sears Roebuck family.
Partnering for Power
According to Shill, the capital invested will allow ReturnBuy.com to bring its service to a significantly expanded base of retailers, distributors and manufacturers.
The investment in ReturnBuy.com is the latest indication that eBay is establishing a strategic network of partners throughout cyberspace designed to extend its reach and improve its offerings.
In March, San Jose, California-based eBay announced several alliances, including a deal with Microsoft that focused on the integration of eBay's auction marketplace into selected Microsoft Web sites. In addition, under that deal, eBay agreed to use Microsoft's Passport and .NET products.
Other deals announced in March by eBay include a pact with Artnet.com that will make Artnet.com's fine art pricing database available to eBay Premier customers, and an alliance with Eppraisals.com to give eBay users access to professional appraisers in the art and antiques categories.
In the Stretch
eBay is also zealously extending its global reach to meet its stated goal of being in 10 countries by the end of the year and 25 by the end of 2005.
Last month, eBay announced that it had launched new Web sitesin Ireland, New Zealand and Switzerland.
In February, eBay inked an all-stock acquisition, estimated to be worth up to $112 million, to purchase European online auctioneer iBazar S.A. Based in Paris, France, iBazar hosts online auction sites in eight countries — Belgium, Brazil, France, Italy, the Netherlands, Portugal, Spain and Sweden — and has 2.4 million users.
Storefront E-Commerce
Last week, an industry journal reported that eBay is gearing up to move beyond its auction listings base with an e-commerce hosting service. The new venture, to be rolled out within several months, reportedly would allow businesses to set up branded fixed-price storefronts on eBay's Web site.
According to the report, the primary impetus behind eBay's storefront push is to even the playing field with e-tail heavyweight Amazon.com and portal giant Yahoo!. Both of the Internet powerhouses have augmented their offerings by integrating auctions and hosting online stores for small and large businesses on their sites.