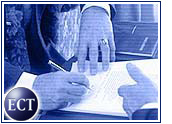 Commerce One (Nasdaq: CMRC) improved 69 U.S. cents to $10.07 in morning trading Wednesday after the company said that it would buy Exterprise, a maker of software that helps build and manage business networks, for stock valued at up to $78 million.
The acquisition will enable Commerce One and its customers to "develop and deploy a broad range of e-marketplace-based applications for both public and private e-marketplaces," the company said.
"Exterprise enables a whole new type of application, based at the e-marketplace, that powers inter-company processes and offers new levels of collaboration between multiple trading partners," said Commerce One chairman and chief executive officer Mark Hoffman.
"Our customers tell us that collaborative e-marketplace applications designed for specific companies, industries or regions will drive the next wave of e-marketplace adoption," Hoffman said. "We believe this acquisition will give us the ability to extend our leadership of the e-marketplace category."
Commerce One, which operates a network of online marketplaces, said that it will exchange up to 7.5 million common shares for all the shares of Exterprise, giving the deal a total value of up to $78 million. The acquisition is scheduled to close in the second quarter.
Commerce One said it will incorporate Exterprise software into its next MarketSite products, with e-marketplace capabilities coming online in the second half of 2001. Complete integration of Exterprise into MarketSite will come in the first quarter of 2002, Commerce One said.
Pleasanton, California-based Commerce One reported stronger-than-expected results for the fourth quarter ended December 31st. Revenue for the quarter totaled $191.4 million, up from $16.9 million in the same quarter in 1999.
Before acquisition-related costs and other charges, the company lost $10.8 million, or 5 cents per share, compared with $11.7 million, or 8 cents, in the year-earlier quarter. Analysts were expecting the company to lose 7 cents per share in the latest quarter.