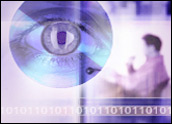 Congress should enact strict controls on how online advertisers can monitor and track consumers' behavior, according to 10 privacy groups that formed a coalition to lobby for the cause: theCenter for Digital Democracy; theConsumer Federation of America; Consumers Union; Consumer Watchdog; theElectronic Frontier Foundation; Privacy Lives; thePrivacy Rights Clearinghouse; Privacy Times; theU.S. Public Interest Research Group; and the World Privacy Forum.
The coalition has sent letters to six members of the U.S. House of Representatives — Rick Boucher, D-Va.; Cliff Stearns, R-Fla.; Bobby L. Rush, D-Ill.; George Radanovich, R-Calif.; Henry A. Waxman, D-Calif.; and Joe Barton, R-Texas — describing the extent to which personal data can be gleaned from an individual's online habits and the aggressive tactics online advertisers are adopting to fully mine that data, which could include such information as sexual orientation, financial security or a plethora of other things people might want to keep to themselves.
"People increasingly rely on the Internet for a wide range of transactions and services, many of which involve their health, finances and other sensitive matters," says a statement from the group. "Data derived offline can be combined with online data to create even more detailed profiles. The data that is collected through behavioral tracking can, in some cases, reveal the identity of the person, but even when it does not, tracking and using such data raises serious concerns."
Online behavioral tracking and targeting can be used to unfairly discriminate against consumers, the coalition maintains, with profiles of individuals resulting in "online redlining" — that is, offering certain consumers products or services at higher costs or with less favorable terms than those offered to others, or denying them access to goods and services altogether.
At the worst end of the spectrum, the collection of online behavioral profiles leaves individuals vulnerable to warrantless searches, attacks by identity thieves, child predation, domestic abuse and other crimes, maintains the group.
New Laws in the Works
The letters and lobbying initiative is particularly timely right now, because the House Commerce Committee is drafting legislation to address consumer protection and online advertising, said Jeffery A. Chester, executive director of the Center for Digital Democracy.
"The message we want Congress to hear is that it is time to recognize that people are using the online channel to transact business, and protections are needed in this arena just as much as protections against, for example, predatory or subprime lenders," Chester told the E-Commerce Times.
The group is proposing a 10-point laundry list of protections:
protection even if the information collected about a person cannot be linked to a name;
a ban on the collection of sensitive information, such as data about health, finances, ethnicity, race, sexual orientation, personal relationships and political activity;
no behavioral data collected from anyone under 18;
limits on the collection of both personal and behavioral data; data that is obtained should be by fair means and with the consent of the individual;
data collected should be relevant to the purposes for which it is to be used;
data should not be disclosed unless for reasons specified in advance;
reasonable security measures should safeguard against loss;
consumers should be able to obtain their personal or behavioral data held by an entity engaged in tracking or targeting;
the FTC should establish a Behavioral Tracker Registry; and
state laws in this area should not be pre-empted by federal law.
Long Slog
Achieving adoption of such legislation — even just a few of the bullet points — will be a long slog, given the heightened partisan environment in Congress and the fierce lobbying campaign expected from the marketing industry.
Still, both political parties are leery of the growing reach of marketers online and are receptive to these arguments, suggested Chester.
Representatives from the coalition will be meeting with the House Commerce Committee next Tuesday to more fully explain its concerns and recommendations.
The extent to which some online advertisers and marketers go to collect information would astound many consumers, Chester added. "If I were a lobbyist for the online ad industry, I would look to cut a deal as quickly as possible before more facts about data collection practices become public."
Flash Cookies and Such
Egregious and aggressive tracking of consumer behavior online is increasing at an alarming pace, according to Paul Stephens, director of policy and advocacy for the Privacy Rights Clearinghouse.
"Their methods are becoming more sophisticated and harder to evade," he told the E-Commerce Times.
For example, using cookies has become old hat, as most consumers know how to evade them or delete them from their browsers. As a result, more marketers have begun using technology called "flash cookies," Stephens said.
"The normal procedures to erase cookies would not apply to a flash cookie — they still remain in the browser and cannot be deleted by commercially available antispyware," he explained, noting that the only way flash cookies can be removed is to use an add-on called "Better Privacy" on Firefox.