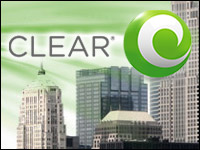 Clearwire's special committee and its board of directors recommended that shareholders approve Sprint's increased offer to buy the remaining half of the company.
Sprint already owns about 50 percent of Clearwire. It upped its bid to purchase the remaining stake by 14 percent Tuesday, offering US$3.40 per share. That offer values Clearwire at $10.7 billion.
The sweetened bid from Sprint came on the day that Clearwire shareholders were supposed to vote on the previous proposal. Since Clearwire's shares had been trading significantly above the $2.97 per share that Sprint originally offered, it seemed unlikely that the stakeholders were going to vote yes on Tuesday.
Clearwire's board seemed to like Sprint's new offer, though, calling it the "most favorable potential transaction" for the company at this time. It is recommending that stakeholders vote to approve the deal at a rescheduled May 31 vote.
Neither Sprint nor Clearwire responded to our request to comment for this story.
Bidding Wars
Sprint's offer to buy up Clearwire comes amid other efforts at consolidation within the wireless industry.
Sprint itself is the subject of bids from other players. Japan's SoftBank Corp. offered $20.1 billion late last year to gain control of the wireless provider. Sprint was planning to use the cash from that deal to finance the Clearwire buy. Since Clearwire's spectrum is compatible with the airwaves SoftBank uses in Japan, Sprint was hoping the added Clearwire spectrum would give it some leverage in negotiations.
"Sprint's path to acquire Clearwire makes sense because it would strengthen Sprint," Jeff Kagan, tech analyst and consultant, told the E-Commerce Times. "It would give them more spectrum and make them more valuable to SoftBank. SoftBank would pay more for a Sprint Clearwire than just for a Sprint."
However, that potential deal was interrupted last month when satellite TV provider Dish unexpectedly offered $25.5 billion for Sprint, as it sets out to expand its network offerings beyond television. Earlier this week Sprint said it would negotiate with Dish, but hasn't taken the SoftBank deal off the table.
The Whole Wireless Picture
Sprint's initiatives to acquire the much-coveted spectrum has given it some unexpected leverage and a future that's difficult to predict, said Kagan.
"This puts Sprint in a very strong negotiating position. Many companies want to get their hands on that spectrum," he noted. "I don't know what the new Sprint will look like. It depends which deal they decide to accept. However, either way, the Sprint of tomorrow will look very different from the Sprint of today."
Choosing between bidders isn't the only decision Sprint must make, said communications technology expert