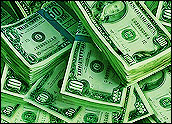 The board of directors for radio and billboard giant Clear Channel Communications unanimously approved a slightly sweetened US$19.5 billion buyout offer from private equity groups whose prior attempts it recently rejected.
Asked by some major shareholders to rethink that rejection, the board announced its approval of a second amendment to the offer by Thomas H. Lee Partners and Bain Capital Partners. Under the terms of the amended agreement, Clear Channel shareholders will receive $39.20 in cash for each share they own, 20 cents more than previously offered.
Instead of taking the cash, the stockholders can opt to exchange up to 30 percent of their shares on a one-for-one basis for shares in the new corporation formed by the private equity group acquiring Clear Channel.
A Third of the Pie
Current investors can opt to receive as much as 30 percent of the equity in the acquired company, but no single investor can control more than 9.9 percent of the equity, Clear Channel said. "The total number of Clear Channel shares that may elect to receive shares in the new corporation is approximately 30.6 million," said Clear Channel. These shares would have a value of about $1.2 billion (at $39.20 per share).
Because of the board's vote, a special meeting of the Clear Chanel shareholders that was scheduled for Tuesday was canceled, although the annual shareholder meeting scheduled for that day will still take place.
Clear Channel's two biggest outside investors, Fidelity Investments and Highfields Capital Management, opposed the initial, $39-per-share, offer but are probably going to endorse the amended bid, according to reports. Fidelity and Highfields control about 14 percent of the Clear Channel shares. Additionally, Institutional Investors Services and Glass Lewis & Co. had advised shareholders to vote against the private equity firms' prior offers, saying the price was insufficient.
A Changing World
While Clear Channel is the nation's largest radio broadcaster, with about 1,100 stations, its business is facing competition from satellite radio and MP3 players. The company is selling its TV stations and more than 400 radio stations in small markets.
However, about 40 percent of Clear Channel's revenue comes from its 90 percent share of the world's largest billboard company, and that business has been growing due in part to the emergence of digital displays.
Clear Channel should not be viewed as a media dinosaur that isn't adapting to the Internet Age, asserted Edison Media Research analyst Sean Ross. "It's been said more than once recently that Clear Channel is chief among the radio folks who are starting to think of their radio stations more as Web sites and entertainment portals that just happen to have a terrestrial radio station attached," Ross told the E-Commerce Times.
Most of Clear Channel's radio stations are now streaming their broadcasts over the Internet, he said.
Limited Impact
The buyout will probably not greatly alter the way Clear Channel is doing business, nor does it mean the company, and terrestrial broadcasting in general, is a dying industry, Ross said. "I don't know that it means anything for the stations that remain post-sale," he said. "People have been assuming terrestrial radio was in danger for years in same way people have been predicting the imminent demise of network television."
Clear Channel, he noted, has proven to be versatile and adaptive. "They certainly addressed a lot of the concerns people have had of them in recent years," Ross explained. "They've taken some very public steps to address the spot load (rate of ads per hour) issues to the point where they've gone from one of the worst offenders to having one of the more enlightened spot load policies."