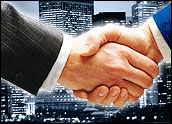 Just two days after it accepted a sweetened merger agreement with a private investment group, Clear Channel Communications announced Friday that it will sell its TV group.
Rhode Island-based Providence Equity Partners will buy the group of 56 TV stations for US$1.2 billion. The deal is expected to close in the fourth quarter of this year, subject to regulatory approval, according to Clear Channel.
"The stations and management of Clear Channel Television have established an outstanding record of achievement, innovation and community service in broadcasting and Web development," said Mark Mays, CEO for San Antonio, Texas-based Clear Channel.
"While we will miss the important role they have played in the Clear Channel family," he noted, "we are excited that they will be partnered with Providence Equity to continue to pursue growth opportunities in the rapidly changing media environment."
Web Sites Included
Clear Channel's 56 television stations include 18 digital multicast stations and are located in 24 markets across the United States. The group currently consists of 10 CW, eight Fox, seven NBC, six ABC, six CBS, four My Network TV, two NBC Weather Plus, two Telemundo, five independent stations and six stations affiliated with Clear Channel's Variety Television Network (VTV).
Also included in the sale are the Web sites associated with the stations, along with the Television Operations Center and Inergize Digital Media, which manages the TV group's online and wireless initiatives.
Clear Channel estimates that the net proceeds after tax and transaction costs will be about $1.1 billion, officials said.
Radio Sales Moving Along
"This is a rare opportunity to acquire a premier collection of broadcast television stations with strong positions in many attractive markets across the United States," said Al Dobron, a managing director at Providence Equity.
Clear Channel is also in the process of divesting 448 radio stations in 88 markets, and currently the company has entered into agreements to sell 161 of them for a total of about $331 million, officials said, with an expected closing time frame of the second half of this year. Net proceeds will be approximately $300 million.
Neither the TV nor the radio sales are contingent upon the completion of the merger agreement with the private investment group led by Bain Capital Partners and Thomas H. Lee Partners, Clear Channel officials said. The total sum offered for Clear Channel is $19.5 billion, and shareholders will vote on that deal May 8.
Not a Surprise
With TV broadcasters slated to make the transition to all-digital transmission by 2009, Clear Channel's move is not surprising, Jim Griffin, managing director of OneHouse, told the E-Commerce Times.
"Broadcast gives way to digital narrowcast the way soft trees give way to hardwoods. It takes time, but the trend is clear, the outcome certain," he said.
"Ultimately, the transmitters become liabilities. Indeed, they will be required to turn off the analog transmitters in less than two years," Griffin added. "Why own broadcast when the digital transition nears?"