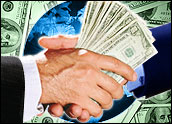 Clear Channel Communications accepted a new, increased bid to buy the company Wednesday, but there is widespread skepticism on whether the offer will be enough to satisfy shareholders.
Clear Channel, the largest radio broadcaster in the United States with nearly 1,200 stations, was offered US$39 a share this time by a private investment group led by Bain Capital Partners and Thomas H. Lee Partners, up almost 4 percent from the $37.60 the group previously proposed in November. The total sum offered to the San Antonio-based company is now $19.5 billion.
Clear Channel's board of directors unanimously approved the offer. Shareholders will vote May 8.
High Enough?
The newly increased bid came just one day before Clear Channel's shareholders had been slated to vote on the original offer, which many had predicted would fail to win enough support. Under Texas law, two-thirds of all Clear Channel's shareholders need to vote in favor of the deal — a more stringent requirement than that in other states.
Whether or not the new bid will be sweet enough to persuade shareholders this time around is open to debate.
Wall Street expressed its skepticism Wednesday, when the company's shares fell 49 cents to close at $36.23 on the New York Stock Exchange.
Highfields Capital Management, one of Clear Channel's largest shareholders, has said the new offer is still unacceptable, Stanford Group analyst Frederick Moran told the E-Commerce Times. "We believe that Fidelity," another key shareholder, "was hoping for an offer of $40 or greater," he added.
Stanford Group maintains a Hold rating on shares of Clear Channel.
Radio Days
Nevertheless, the increased bid for Clear Channel indicates that the days of radio are not over yet, Moran said.
"The privatization of Clear Channel, whether it goes through or not, reinforces the underlying inherent value of radio stations at a time when the radio industry is showing no revenue growth," he explained.
"Radio has been in a secular slump for the last 5 or more years due to an onslaught of Internet ads led by the likes of Google and Yahoo," Moran stated. "But despite the lack of radio industry growth and the defection of top personalities like Howard Stern, Thomas H. Lee and Bain Capital are showing what value radio still maintains."
Lasting Value
Indeed, the deal is a testament to the lingering power of old media even in their advanced age, Jim Griffin, managing director of OneHouse, told the E-Commerce Times. Griffin likened the interest in Clear Channel to that shown by tycoon investor Sam Zell in newspapers.
"Sam Zell's self-proclaimed 'grave-dancing' interest in aging media attracts more and more dancers to the party," Griffin said. "There must be more cash to wring out of these businesses as they slowly fade with their graying audience."