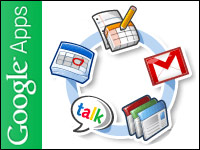 The Los Angeles City Council voted 12-0 on Tuesday to adopt Google Apps, which include Gmail and other office software tools, for its 30,000 employees. The deal places Los Angeles among the vanguard of public sector operations relying on cloud-based productivity software.
Plans call for installation of the system by June, when a pilot project will begin. The five-year deal with Computer Services Corporation, worth an estimated US$7.25 million, edges out the city's existing vendor, Novell, reportedly saving $5.5 million over the life of the contract.
Google and CSC are partnering to offer a range of Google Enterprise products and services to California public sector agencies, with CSC serving as the systems integrator, Google spokesperson Andrew Kovacs told the E-Commerce Times.
"We're thrilled the LA City Council unanimously voted to go Google," said Dave Girouard, president of enterprise at Google, "and we look forward to working with the City to bring the many benefits of Google Apps to their employees."
The ROI numbers cited in media reports are penciled in, according to Vatsal Sonecha, vice president of business development at TriCipher.
"The biggest gain will be in the manageability of the service," he told the E-Commerce Times.
Competing vendors for the account, including Microsoft, "would have still brought a host of manageability issues with them, which is why as I understand it the CTO went for Gmail instead," remarked Sonecha.
Security Issues
During Tuesday's city council debate on the issue, Los Angeles CTO Randi Levin went to bat for the cloud-based service, reassuring members that Gmail was safe and advanced enough for government use.
The Council nevertheless voted to include a penalty provision in the contract that would hold CSC liable if the service should be breached and data stolen.
Such an event is not outside the realm of possibility, Livedrive CEO Andrew Michael told the E-Commerce Times. "Twitter's Google data was famously hacked when just one user's account was compromised, and LA … should be sure that they have strong procedures put in place to avoid similar issues with account credentials."
Google has demonstrated that it takes security very seriously, Michael Sutton, VP of security research at Zscaler, told the E-Commerce Times.
"While a variety of Web-based vulnerabilities — such as cross-site scripting — have emerged in the past, Google has generally been very quick to address such issues and overall has been rather proactive with initiatives such as Google SafeBrowsing," he said.
Furthermore, security isn't the only concern that should be considered.
"Reliability should be of critical importance," said Sutton, "especially for a service such as email that has become such a vital communication medium."
Google has had issues in the past with brief system outages, he noted. "Enterprises should be sure to look at historical uptime statistics and negotiate appropriate SLAs to ensure that compensation is received should providers fail to deliver on their promises," he advised.
Both Sides Now
There's no question that the cloud computing trend is accelerating, and public agencies are taking note.
"Many major government agencies are already using Google Apps," noted Google's Kovacs, "such as the City of Washington D.C., the New Mexico Attorney General's Office, and the Prince George County School District in Maryland. Many more were watching LA closely, and we look forward to working with them."
Still, a high-profile customer win like the City of Los Angeles could cut both ways. It might slow momentum for cloud computing if the city should experience an extended outage or a security intrusion.
Google has had some widely publicized security and availability issues around its email and applications, Keith R. Crosley, director of market development for Proofpoint, told the E-Commerce Times.
If Los Angeles should have trouble, "that will increase skepticism about the cloud in some circles," he said.
However, there's a growing awareness that all clouds are not created equal.
"A failure of one application in the cloud is not a failure of 'the cloud' writ large," Crosley said. "Sophisticated enterprise buyers won't judge all cloud computing-based solutions just on Google."