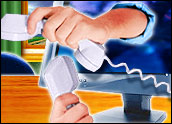 Google announced on Monday that Google Voice users can retain their existing mobile phone numbers when setting up an account instead of having to receive a new phone number for the service.
"Google Voice is all about enabling choice," product manager Pierre Lebeau said in a post on the Google Voice blog.
However, that choice is restricted — consumers who decide to use their own mobile phone numbers with Google Voice will miss out on several features, including call screening and blocking, as well as conference calling.
Google-Eyed Generosity?
Google Voice is still in the limited public roll-out phase launched in June and is available by invitation only.
Previously, a user had to select a new Google phone number, which would receive all calls and forward them to any phones logged on to that number. The Google Voice service comes with various features, including SMS through e-mail; call screening, recording and blocking; conference calling; low-priced international calling; and online searchable voicemail.
Users who prefer to retain their mobile phone numbers will only get five of those features: free automated voicemail transcription; custom voicemail greetings for different callers; email and SMS notifications; low-priced international calling; and online, searchable voicemail.
They will not get access to one number that receives all calls; SMS through e-mail; call screening, recording and blocking; Listen In; and conference calling.
"There will be people who are willing to trade some of the Google Voice features for the ability to keep using the same mobile number, and this is a way for them to access Google Voice and take advantage of things like the online voicemail box and the automated voicemail transcriptions," Google spokesperson Sara Jew-Lim explained. "There will also be people who want to select a new number in order to take advantage of the full Google Voice feature set, including call screening, call recording, conference calling, etc."
Google wants to offer both options and let users decide which one makes the most sense for them, Jew-Lim told the E-Commerce Times.
The Voice That Whispered
So how many people have actually begun using Google Voice? "I haven't seen any credible numbers, but the estimates are very small," Rob Enderle, principal analyst at the Enderle Group, told the E-Commerce Times.
"I make many calls during the day, and I have only received the Google Voice prompt for a total of two reporter calls," said Allen Nogee, a principal analyst at In-Stat. "My sense is it's not widely adopted, at least not for real business purposes."
Letting people retain their current mobile phone numbers when signing up for Google Voice may help increase adoption of the service. "Many people don't want to change their numbers to use Google Voice," Nogee told the E-Commerce Times.
The Big Gimme
However, restricting the features available to Google Voice users who retain their mobile phone numbers may not help the service. "Folks typically want the entire feature set and not to have to change a number," Enderle explained. "I think Google is premature with this offering, and it should have been held back until they could provide a better package."
Features such as conference calling and call screening, recording and blocking are pretty major features, In-Stat's Nogee pointed out. "If you have to give up these extra features, much of the benefits of Google Voice disappear. Voicemail and transcribed voicemail are nice but probably not enough to persuade many users to adopt Google Voice."
Google needs to step back and engage in strategic thinking instead of shooting from the hip, Enderle said. "For things like Google Voice, focusing on a specific audience first that has a high need, such as sales departments, would have likely served them better than providing a crippled offering," he explained.
Growing Pains?
Google Voice was unveiled only in March, and Google is continuously upgrading the service.
"Google Voice is costly to operate, and it's free from Google," In-Stat's Nogee said. "That's not a great business model for most companies — pay out lots of expenses and make no revenue — but for Google, it makes sense in its long-term advertising plans."
Ring Central offers a more complete service than Google Voice, Enderle said, but it's fee-oriented. "Free is nice, but often you do get what you pay for," he pointed out.
One issue that may impact adoption of Google Voice is the fear that email notifications from the service about voicemails can be found with online searches. About a week ago, the Boy Genius Report noted that one of its readers located 31 voicemail messages from several Google Voice accounts on the Web through an online search. This triggered an uproar among Google Voice users.
Later the same day, a message appeared on the Google Voice blog indicating that Google had made changes three weeks previously which made it impossible for anyone to find Web pages containing Google Voice e-mails through an online search.
Nevertheless, privacy concerns could pose a large problem for Google Voice. "Folks need their phones to work as promised and don't want private calls made public," Enderle said. "This problem could do a lot of damage to many of Google's offerings; if you can't assure the privacy, the cost of exposure overwhelms the benefits of free."
However, the problem has been solved, according to Google's Jew-Lim. "We implemented a change that prevents the content of Google Voice voicemail messages from being indexed," she said. Whether or not the public begins adopting Google Voice more readily remains to be seen.