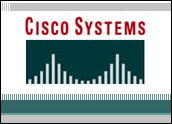 Cisco reduced its revenue guidance and posted weak earnings, or net income, for its fiscal first quarter, worrying both its own shareholders and those who view the computer networking manufacturer as a bellwether for the tech space.
The networking giant turned in an essentially flat performance for the quarter, with earnings registering US$2.2 billion — a 0.2 percent increase compared with the same quarter last year.
In actuality, Cisco's numbers beat analyst expectations. Excluding employee compensation and acquisitions, it clocked in with earnings of 42 cents per share — a 3 percent increase from the 39 cents the Street had been expecting.
Rise in Sales
Revenue reached $10.3 billion, an 8 percent rise from a year ago — also topping analyst estimates of $10.297 billion, albeit very slightly.
A breakdown of Cisco's revenue streams:
the company reported switching revenue at $3.6 billion, an increase of 8 percent year-over-year driven by growth in both its modular and fixed-switching portfolios;
Router revenue was $1.9 billion, up 1 percent year-over-year;
Advanced technologies revenue totaled $2.7 billion, an increase of 17 percent year-over-year;
Other product revenue totaled $442 million, a decrease of 13 percent year-over-year, related to the optical and cable business this quarter;
Total service revenue was $1.7 billion, up 10 percent year-over-year.
Cisco also closed a number of deals this past quarter, including a $27 million investment in the Cisco Innovation Hub Technology Centre in South Africa and the acquisition of PostPath, a provider of e-mail and calendaring software. It also completed the acquisition of Pure Networks, a provider of home-networking-management software and tools.
The company ended the quarter with approximate $27 billion in cash and investments. Cash generated from operations for the quarter was $2.7 billion.
Shares Drop
Despite the good news peppering the report, Cisco shares were trading down 48 cents to $16.91 following its report.
"The stock fell after the company lowered its second quarter revenue guidance to a decline of 5 percent to 10 percent, which is around $8.85 to $9.4 billion, well below analyst forecasts of $10.4 billion," Frederic Ruffy, senior options strategist at WhatsTrading.com, told the E-Commerce Times.
Cisco is facing a worsening business environment worldwide. "In the conference call, the company noted that it started in the U.S., expanded to Europe, to the emerging markets, and into Asia," Ruffy said. "Consequently, the firm is taking steps to cut costs and alleviate some of the pressure on operating margins, but the outlook in the near term seems much worse than most investors had expected heading into the report."
Tech Bellwether
The numbers are by no means horrible, but they are giving industry watchers some pause."You get a feeling this time is not unlike the dot-com crash. Then, Cisco was unable to provide much visibility into future earnings," Peter Cohan, a principal of Peter S. Cohan & Associates, told the E-Commerce Times.
If this were any other company, Cohan said, he might dismiss the earnings as merely flat performance on its part. Cisco is a bellwether, though. "It is widely considered to be well managed, and if it is not doing well, it suggests the entire IT sector is in for a slowdown."
Consumer vs. Business
Not that the industry needed Cisco to tell it that. Both Yahoo's and Apple's stock prices point to new pressures among tech vendors — especially Web 2.0, consumer-oriented companies, noted Cohan.
"Cisco, though, sells to business," he emphasized, "and if it is faltering, that foreshadows something unpleasant is coming."
Taken as a whole, "there is nothing happening in the industry right now that gives you a warm fuzzy feeling for growth opportunities," concluded Cohan.