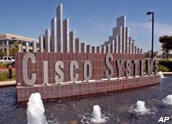 Cisco has made countless billions selling switches and routers — the network equipment that monitors and directs Internet traffic and keeps data flowing smoothly.
Now, the San Jose, Calif.-based hardware giant is moving into another market: corporate communications software.
The move into the software market is part of a larger strategy to increase revenue and profit growth over the next several years.
Collaboration Software
Cisco recently showcased its new plans for growth for a bevy of Wall Street analysts.
"At their analyst day last week, Cisco tried to explain how they're going to get to 12 to 17 percent long-term revenue growth," Mark McKechnie, an equity analyst with American Technology Research, told the E-Commerce Times.
At the meeting, Cisco CEO John Chambers said the company would continue to expand its traditional routers and switches business, but he also talked about areas "close to where Cisco already plays," McKechnie said, including "video over [Internet protocol] networks, virtualization in the data center and the collaboration piece."
The collaboration component is a series of Web-based software applications that make it easier for people to communicate over a corporate network via e-mail, messaging, video-conferencing and sharing calendars.
Over the last few years, Cisco has made several acquisitions to deliver better network communications:
WebEx — enables users to conduct meetings and conferences online;
PostPath — makes e-mail software;
Jabber — an instant-messaging software company; and
TelePresence — a powerful video-conferencing application that enables companies to conduct meetings with partners, customers and the like from all over the world.
Microsoft, Here We Come
Cisco's moves into the collaboration software market will bring it into direct competition with Microsoft, which already has a strong presence in the corporate communications software market through applications such as SharePoint, Outlook and Exchange.
In the past, Cisco and Microsoft were often close collaborators.
"That's Silicon Valley for you," McKechnie said. "Your partners will stick knives in your back sometimes. [Cisco and Microsoft] both need each other, but they're both competing for the same piece of enterprise software spending by large organizations."
However, the question as to whether Cisco, traditionally a hardware company, has the chops to play in the complicated world of business software is still open.
McKechnie thinks the company has a fighting chance.
"Cisco bought WebEx and brought a pretty well-respected team from there with a solid business model," he said. "One thing you can always be sure of is that when Cisco enters your market, they're not coming at you with pea shooters."