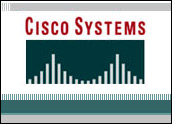 Cisco's quarterly earnings report beat Wall Street expectations this week, giving investors a hint of confidence in the constantly evolving tech industry.
The networking company reported a net income of US$2.48 billion, or 46 cents per share. That's up from the $2.17 billion it brought in during the same time last year. Revenue was up 5.4 percent to $12.22 billion.
Cisco was encouraged by its growth in the Americas region, where revenues were up 7 percent, as well as in emerging markets, which saw sales grow 10 percent. That prompted Cisco CEO John Chambers to says his company was able to execute at a high level in a "slow, but steady economic environment." That growth also helped offset losses in the Asia-Pacific region, which Cisco attributed to issues in China, and in most parts of an economically challenged Europe.
Investors seemed pleased with the company's quarterly results. Cisco's stock climbed about 8 percent in after-hours trading on Wednesday and continued its uptick going into Thursday afternoon, trading at about $23.80 per share — a 12 percent rise from the previous day.
Cisco did not respond to our request for further details.
Adapting to Changing Markets
Like so many of its industry peers, Cisco has had to transition away from some of its more traditional products and services, such as switches and routing equipment, as businesses turn more towards wireless and cloud services for their computing needs.
Cisco has addressed the market's new needs. Its smaller data center equipment segment rose 77 percent on the quarter, and its wireless equipment sales were up 27 percent. It also saw a 30 percent increase in revenue from its sales to service providers delivering online video.
The company's 2009 partnership with EMC, and the subsequent creation of VCE, was also an attempt to integrate systems to help better compete with powerhouses like HP and IBM.
Growth in those transitional areas may be slow and steady, as Chambers put it. However, the company is proving that its shrewd partnerships are paying off, said Rob Enderle, principal analyst at Enderle Group.
"Overall, Cisco is far more focused than they were, and their partnership with EMC is paying off well," he told the E-Commerce Times. "They are also partnering with Intel and getting ahead of what likely will be a big hardware changeout that looked like it was going to wipe them out by catching them unexpected. Rather than fight Intel, Cisco jumped on board recognizing that any other play would have been fatal. In short, at the moment they are on their game."
In addition to identifying key partners, the company has also been able to discover needs in markets that didn't exist even a few years ago, said Michael Genovese, analyst at MKM Partners.
"What they're doing really well is identifying other markets and capitalizing on them," he told the E-Commerce Times. "They've done a tremendous job in gaining share in the data center, not only high end, but with their switches, which is their core business. They're also doing a great job with providing video services, showing that they can execute well in new markets."
Staying Ahead of the Curve
Cisco still faces future risks. Some of those challenges are out of the company's control, Genovese said, and they may not improve in the near-term.
"We need to see the European economy improve," he noted. "U.S. government spending could also get better, but if the company continues to execute the way it's been doing, it will improve when those markets do."
What may be more important is that the market isn't done evolving, Genovese said. The ongoing question surrounding Cisco is whether or not it can sustain business in an industry where software solutions are becoming increasingly important.
"The key risk is the move to software networking," he noted. "The worries are there about whether they can really get software and service revenues up as hardware margins decline. It's an ongoing debate, but they have proved they are good at executing in new market opportunities, though, and they seem to be doing a good enough job of it right now. We'll have to see."