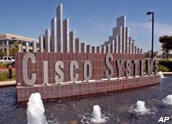 Cisco has agreed to pay a pretty penny for WebEx. By any measure, the US$3.2 billion — in cash — represents a hefty premium. The company obviously has big plans for this product line. Either that, or it wanted to take WebEx off the market so no one else would acquire it. Or both.
Indeed, ever since the news hit that Cisco was going to buy WebEx — a plum acquisition but with a sticker price that was widely considered overvalued — the tech community has been speculating on the direction Cisco is likely to take once WebEx is under its roof.
"For the money it paid, this is going to be more than a tactical acquisition," Dana Gardner, principal analyst at Interarbor Solutions, told the E-Commerce Times. "This is a strategic play."
Better Web Conferencing
Clearly, Cisco will be going head to head in the Web conferencing space against Microsoft's LiveMeeting. With the WebEx acquisition, Cisco will be able to offer a product that's integrated out of the box, compared to Microsoft's offering, which requires third-party hardware.
That said, the next question is: What additional business services will Cisco add to leverage its new acquisition?
"Cisco can take this in a lot of different directions," Gardner pointed out. "The types of services they add in will determine their short-to-medium term direction."
Cisco's strategic choices may also serve notice to certain vendors that competition in their space is about get much tighter.
For instance, Gardner suggested, if it turns out that Cisco is going to focus on business communication services, then that would be mainly a competitive issue with Microsoft and, to a lesser extent, Adobe.
"If they start offering a lot of business applications services, that might point to more competition for Salesforce.com — particularly if Cisco starts to create a developer community too," Gardner said.
The company that Gardner believes has the most to fear, though, is Citrix. "It has acquired technology to provide webinars and online meetings," he noted. "The Cisco installed base coupled with WebEx could put a lot of pressure on Citrix."
The SaaS Play
While the WebEx buy certainly is a Web collaboration play for Cisco, it is important not to discount the fact that WebEx is a Software as a Service firm, John Emery, a principal at Bowen Advisors, a strategic merger-and-acquisition consulting firm, told the E-Commerce Times.
"WebEx's acquisition is a much bigger bet in terms of going after the SMB (small and mid-sized business) markets. Hosted applications are fairly new for Cisco, but that is what the SMBs are buying now."
The acquisition suggests that Cisco is looking to acquire greater market share among SMBs, agreed Paul Bodet, an analyst with RSM EquiCo, a global investment banking firm.
"This capability will make Cisco a lot more attractive to smaller companies," he told the E-Commerce Times, "who typically consider it to be a vendor for large enterprises only."