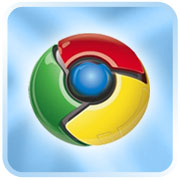 Chrome, a relative newbie in the browser world, appears poised to take over the No.2 spot — possibly within the next three months.
Chrome's current global average user share is 23.6 percent, according to StatCounter. User share for Firefox, the No. 2 provider after Internet Explorer, stands at 26.8 percent.
Firefox will be relegated to third pace no later than the end of 2011, StatCounter predicted.
A similar conclusion is reached in a report from Net Applications, although its findings suggest Chrome is overtaking Firefox at a slower pace.
Firefox currently has a 22.6 percent share of the browser market, while Chrome has 15.5 percent, according to Net Applications, which predicted Chrome will surpass Firefox sometime next year.
Marketing and Money
It would seem to be an astounding success story for a browser that burst onto the market a few short years ago — but it's less surprising considering that Chrome is Google's creation, according to Laura DiDio, principal of ITIC.
"Why has Chrome caught up so quickly to Firefox? The reason is simple: marketing, marketing, marketing — and money," DiDio told the E-Commerce Times.
"Google is a very powerful and very rich company. Firefox is backed by Mozilla, which is a community open source initiative — a populist product, in other words, with no marketing behind it."
This is not about a comparison between features and functions, she said. Both offer roughly the same functionality, although in some areas one bests the other.
For example, Firefox offers a great ad blocker plug-in, noted DiDio. Chrome is lightweight, also based on open source, and has an edgy look.
It also updates itself every six weeks, as opposed to making occasional massive upgrades, which can turn off some users, she said.
"To a certain degree, Web browsers have become commodities," observed DiDio. "We don't think about them — they are just there, and unless you are very picky about these things, almost any one will do."
The way to gain traction in this environment, she said, is to pour money into a marketing campaign — a long, ongoing campaign — as Google has done.
Internet Explorer's Decline
There's more than marketing behind Chrome's success, suggested Charles King, principal analyst with Pund-IT.
"If marketing and money were the only answer, how is it that Internet Explorer is on the decline?" he asked. "Microsoft has poured billions of dollars into its development and positioning over the years."
The browser market is fungible enough that a new product viewed as technically more adept can easily develop traction, King told the E-Commerce Times. "To its credit, Google came up with a tool that provides value in performance over the competition."
Being nimble is especially important in this market, making it almost inevitable that an incumbent browser is going to lose market share.
"Firefox has done well over time but I do wonder if it is becoming too large to make more progress," said King. "It seems to have gotten more and more unwieldy over time, and that tends to be difficult to support for any kind of technology."
A Market Divided into Thirds
Such as view is most likely to be held by hard-core techies, though. Most consumers don't have a strong attachment to browser choice, according to Daniel Laloggia, digital marketing manager at Walker Sands Communications.
Because browsers have become commoditized, the market could easily be reshaped entirely, he said.
"It's very likely that Chrome will overtake Firefox to become the number two browser, but my prediction is that all three of the major browsers will end up clumping between 25 percent and 30 percent of market share," Laloggia told the E-Commerce Times. "This means that it's likely that all three browsers will be number one, number two and number three at some point."
In this scenario, each of the major browsers has a core group of users who are unlikely to change to one of the others for a variety of reasons, he maintained.
Google Search
The reason Chrome is catching up to Firefox is because Google is the top search engine and it has a platform from which to push Chrome, Laloggia continued.
"When you visit Google using another browser, Google can suggest that you try Chrome, which allows them to take users from Internet Explorer and Firefox and turn them into Chrome users," he said.
"The only thing Firefox is doing wrong is in not being the most visited page on the Web," maintained Laloggia. "Google's ability to push its own product is a strong advantage that Firefox doesn't have. In fact, before Chrome, Google used to push Firefox to searchers and that played a leading role in growing Firefox's market share."