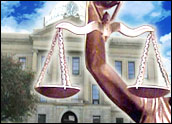 The House Judiciary Committee held a panel hearing on the issue of net neutrality Tuesday, hearing testimony from such diverse interests as a rock band, an abortion rights advocacy group and the Christian Coalition of America. The unlikely trio converged on the Hill to call for legislation that would ensure that cable and telco Internet service providers do not dole out broadband — or restrict its use — for political reasons.
Chairman John Conyers, D-Mich., said legislation was needed to codify net neutrality into law.
"Congress must act now," he said at the end of his opening statement.
Political Speech
The Christian Coalition rarely finds common cause with NARAL Pro-Choice America, or for that matter, rock groups that speak out against Republican presidents. However, Michele Combs, vice president of communications for the Coalition, cited incidents in which NARAL and Pearl Jam frontman Eddie Vedder were censored by their ISPs.
In the case of NARAL, Verizon Wireless blocked messages sent by NARAL to its supporters.
During a Lollapalooza webcast, AT&T censored lines Vedder wove into the group's hit "Daughter," which were critical of President George Bush.
If it could happen to them, it could happen to the Coalition, Combs told the E-Commerce Times. "We are worried about the cables and Bells being discriminatory regarding content on the Internet."
Other Coalition concerns, she said, include shunting some Web sites into slow lanes — with paying content providers enjoying faster access. Many of the Coalition's grassroots members maintain their own Web sites, she said, which likely would be dumped in an ISP's slow lane. "They cannot afford to go fast lane, and slowing access to their sites would seriously hurt our efforts to get our message out."
Rounding out the trio was OK Go, which has YouTube to thank for boosting its commercial success. Its song, "Here It Goes Again," was immortalized on the site with itscampy treadmill video watched more than 31 million times so far.
Indeed, OK Go is the quintessential poster child for the campaign to enact net neutrality legislation. Unless a level playing field is ensured, argue proponents, few other than the most commercially successful companies will truly be able to leverage the power of the Internet.
Bye Bye Spam Filters
Critics of net neutrality — that is, those who want to keep the status quo — have their own arguments at the ready.
ISPs have to be able to regulate traffic to some extent to maintain network integrity, said Roger Cochetti, group director of U.S. public policy at CompTIA.
For instance, "spam filters could easily be put at risk under net neutrality," he told the E-Commerce Times, because the ISP could no longer restrict flow into customers' e-mail accounts.
Cochetti's reading of this Congress is that it is reluctant to open the issue again. "It is a complicated subject, and almost any member of Congress who privately discusses it in a serious way concludes that it would be better not to implement regulations unless absolutely necessary."
Still, Conyers made strong statements in support of net neutrality legislation at the hearings — contrary to some media reports.
He has publicly favored extending antitrust laws to cover the Internet as a solution. In the last Congressional session, Conyers and James Sensenbrenner, R-Wis., former chair of the Judiciary Committee, introduced a bill that would have done just that. It died in committee, and Conyers later threw his support behind a bill that would have mandated the Federal Communications Commission with a net neutrality mission. That bill died as well.
Cochetti does not believe any grand legislative initiatives on net neutrality will be forthcoming in this Congress. "I would surprised if we see anything other than symbolic actions" — such as introducing resolutions, making speeches and, yes, holding hearings.