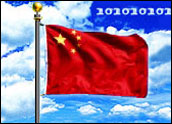 Chinese government departments, including the Chinese Ministry of Public Security, began a six-month campaign Thursday to eliminate pornography and other material from the Internet in China, according to reports from the Xinhua News Agency.
Some 137 million Chinese use the Internet, second only to the United States. Young Chinese people make up the overwhelming majority of those online. The Chinese government, Xinhua reported, believes users need to be protected from what it views as negative online influences.
"The boom of pornographic content on the Internet has contaminated cyberspace and perverted China's young minds," said Zhang Xinfeng, vice minister of the Ministry of Public Security.
Hitting Delete
During the next six months, the Chinese government's ministries will concentrate their efforts on removing illegal online activities, including the distribution of pornographic materials; the organizing and promotion of so-called cyber strip shows and prostitution; and the eradication of sexually explicit images, stories, audio and video clips from the Internet.
The purge will also target illegal online lotteries and contraband trade, fraud and "content that spreads rumors and is of a slanderous nature," Zhang added.
"The inflow of pornographic materials from abroad and lax domestic control are to blame for the existing problems in China's cyberspace," Zhang noted.
Xinhua reported that the Beijing Reformatory for Juvenile Delinquents found that 33.5 percent of its detainees were influenced by violent online games or salacious Web sites when they committed crimes such as robbery and rape.
Stiff Penalties
Nearly rendered a nonissue under communist leader Mao Zedong, who outlawed pornography along with other vices, online pornography is an ongoing issue in China, where purveyors of content sometime face harsh sentences as a result of their activities.
One Web site operator, Chen Hui, received a life sentence in November 2006. Called the largest porn site in the country, Chen's operation hosted more than 600,000 registered users, who were able to access more than 9 million pornographic images.
Zhang Yuancheng received a four-year prison sentence following his 2006 arrest for operating two "cyber strip show" sites. The site earned some US$1,300 a day from its 4,000 registered members and 400 dancers. Another operator known only by the surname Li, according to Xinhua, ran a pornographic site with more than 260,000 members. Li was sentenced to four years in prison.
"Pornography is illegal in China," Michael Cai, an analyst at Parks Associates who is also a Chinese citizen, told the E-Commerce Times. "Those kind of severe sentences are not uncommon and the government has very tight control."
Porn operators in China, said Cai, are less interested in issues of free speech and censorship and more focused on the large amounts of money the sites generate.
"This is more about money than about free speech or fighting censorship," he added. "If you want to operate in a country, you should follow the laws of that country."
Porn Overflow
While there is no way to measure the amount of porn behind China's so-called Great Firewall — the Chinese government's system for blocking objectionable IP addresses — the country probably has about the same amount as most other countries, Shawn P. McCarthy, director of research at IDC, told the E-Commerce Times.
The only difference, he added, is that pornographic sites might be discovered and shut down more often by the government.
"Centralized government control could give them an advantage when it comes to identifying and locating such content," McCarthy explained. "But I don't think it's possible to ensure success because there are many ways to hide such activity, and because demand always assures that there will be some level of supply."
The government has placed a filter over major search engines such as Baidu and Google China, according to Cai. The filter prevents searches containing any sex-related terms and will filter all the results from a prohibited search.
"From time to time [the Chinese government] will conduct campaigns to identify the violators because the violators can always find ways — hosting sites through other countries — to go around those filters," Cai noted.
One way Chinese users may be circumventing government filters by accessing Baidu's Japanese site, launched in mid-March. Chinese surfers account for some 59.3 percent of Baidu's users, according to Alexa.com Web traffic statistics, nearly double the 34.5 percent of traffic from Japanese users.
With a little more than three-quarters of the site's visitors, 76 percent, searching for images, some intrepid Chinese may be turning to the filter-free Japanese site for their pornography fix.
Controlling Standards
China has every reason to censor objectionable content, Cai stated, pointing out that adult Web sites are also a subject of debate here in the U.S. because of child pornography. "Each country sets its own limits, and China has set this limit. And I respect that."
As to the ministry's contention that online content, including games, has led to a deterioration of the country's moral fiber, Cai explained that there have in fact been some high profile crimes committed by young men in connection with their online game play.
"Some online games have caused problems, like youngsters have killed their relatives to get more money to play games," Cai said. "And another killed a friend to get a virtual item. With more and more Chinese going online, if the government does not implement a level of control there will be more social problems."
However, where there is a will, as the saying goes, there is a way. There are multiple ways for users to defeat Internet censorship, according to McCarthy.
"But those who use these techniques need to be aware that the very act of circumventing censorship can create the risk of detection and possible punishment for a person who has learned how to use these technologies to avoid filtering restrictions," McCarthy concluded.