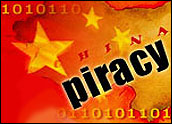 The United States has filed two complaints with the World Trade Organization over China's trade policies, claiming the country is not doing enough to protect the intellectual property of American companies, including software makers, movie studios and music labels.
The office of U.S. Trade Representative Susan C. Schwab on Tuesday filed two requests for WTO dispute settlement consultations with China. One request focuses on "deficiencies in China's legal regime for protecting and enforcing copyrights and trademarks" and the other on "barriers to trade in books, music, videos and movies," according to a USTR statement.
"Piracy and counterfeiting levels in China remain unacceptably high," Schwab said. "Inadequate protection of intellectual property rights in China costs U.S. firms and workers billions of dollars each year."
China's 'Strong Dissatisfaction'
The Chinese government responded with a statement from its commerce ministry, which stated China felt "great regret and strong dissatisfaction" at the decision to file the complaints.
U.S. trade officials have been warning that it would take action if China did not agree to put stronger protections in place for U.S. goods and copyrighted works. As one of the largest and fastest-growing markets for U.S.-based technology and entertainment companies, China has long a double-edged sword in terms of trade, offering vast opportunities but also high risks of piracy and counterfeiting.
The business software industry alone lost nearly US$2 billion in revenue due to piracy and counterfeiting of various products, such as Microsoft's Windows, the International Intellectual Property Alliance recently reported.
Progress Seen
Nevertheless, some progress has been made, but direct talks were not resolving key remaining issues, Schwab noted.
"China's leadership has made the protection of intellectual property rights (IPR) a priority and has taken active steps to improve IPR protection and enforcement," she said. "However, while the United States and China have been able to work cooperatively and pragmatically on a range of IPR issues, and China has taken numerous steps to improve its protection and enforcement of intellectual property rights, we have not been able to agree on several important changes to China's legal regime that we believe are required by China's WTO commitments."
The U.S. is asking the WTO to help it end Chinese policies that give "safe harbor" to pirates and counterfeiters and to force China to stop more pirated material before it enters the country. One specific rule the U.S. hopes to change is one that allows known pirated movies and music to be released for sale after false labels are removed, rather than being destroyed to prevent distribution.
The second complaint focuses on existing laws that allow only state-owned entities to import books, journals, movies and music created in the U.S. Because demand for U.S. entertainment outstrips the government-controlled supply, the result of that policy is a rampant black market, Schwab suggested.
"IPR pirates have the upper hand in the Chinese market," she added. Some of those provisions may also violate the WTO's own existing rules governing China trade, the U.S. claims.
Hollywood Happy
In filing the complaints, the trade agency is heeding the calls of the entertainment industry to do more to protect their intellectual property. While industry groups have been aggressively protecting their movies and music from piracy at home, some of their efforts to contain piracy have been undermined in overseas locations where piracy is sometimes tolerated.
The move is a "welcome and logical next step in efforts to spur progress in China," Motion Picture Association of America CEO Dan Glickman stated.
"This action is fair, timely and appropriate," he added. "I am optimistic about the potential for a favorable resolution, and the resulting benefits for the U.S. motion picture industry."
Such trade disputes are not uncommon, with the WTO often serving as an intermediary to settle disputes between trading partners when direct discussions don't yield results.
A Policy Shift
Still, within the U.S., the decision to take the action was seen as a shift in Bush administration policy toward China, possibly signaling a tougher stance brought on by the new reality of a Democrat-controlled Congress, where many lawmakers want China to be held to much higher standards in order to have access to U.S. consumers.
The U.S. has a steep trade imbalance with China, but the market is seen as critical to many American industries, from technology to entertainment. As the Chinese economy grows and modernizes, more U.S. companies will find a market in China.
The market may be the best motivator of all in the end, Enderle Group Principal Analyst Rob Enderle told the E-Commerce Times. As its economy matures, China will produce more technology and other intellectual property that it will want protected, he noted.
"For now, the uneven playing field benefits China, but over time that will start to change and that might drive a change in policy," Enderle said.