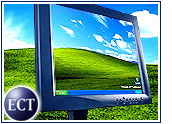 Few companies in recent history, with the exception of spectacular flameouts like Enron, have inspired the kind of loathing that Microsoft has in its climb to the top.
The Redmond, Washington-based software giant has been the target of late-night comedians' barbs as well as anti-Microsoft Web sites.
Can a company that has been so widely reviled work its way toward indifference, much less love? Some analysts say Microsoft is already on the right road.
Hating a Giant
Michael Gartenberg, research director at Jupiter, told the E-Commerce Times that Microsoft can be likened to the 1979 Yankees.
"It was a great team," he said. "And most of the country just hated them."
When a company is too big and powerful, it is perceived as a threat, and the result is a business version of sour grapes.
However, it is also important how Microsoft got to the top.
"One factor for people being so passionate against the company is the success over a short period of time," Gartenberg said. "Another factor is arrogance. Humility was not considered coin of the realm in Redmond. Ambition was good, and they fostered an 'us versus them' feeling. As a result, it's a very polarizing company, so very few people are ambivalent about them."
Trust After Antitrust?
The largest blow to Microsoft's image was the drawn-out antitrust case prosecuted by the U.S. Department of Justice.
The sometimes heated and well-publicized trial kept the company in headlines for months, and although the case is now in the settlement phase, its effects are lingering.
Forrester principal analyst Carl Howe told the E-Commerce Times: "At the very beginning they should have settled. We believed the constant reports about the trial would do terrific damage to their image. That turned out to be an understatement."
One problem at the beginning of the trial was the attitude of Bill Gates, whom Howe said was resistant and defensive. In later appearances, Gates seemedless negative and more conciliatory, but some people remember only his early persona.
"When he testified in the most recent trial, that helped a lot," Howe said. "It did some repair, but the trouble is, first impressions are very lasting."
Battling Bill
A difficulty faced in Redmond, according to analysts, is that Microsoft's early way of business might not be working to help its image.
"A lot of the company's culture was created when they were a small startup, but now they're a tech leader," Howe said. "You need different ways of competing when you're a leader as opposed to being a challenger. When you've got more than 90 percent market share, the same tactics you used to get there don't work anymore."
Dan Kusnetzky, vice president of system software at IDC, told the E-Commerce Times that Microsoft can be compared to a street fighter who joins a scuffle even when he is not involved in the argument.
"Their approach to the market has often been extremely aggressive," he said. "They have a tendency to be like a fighter who gets his knees and elbows into everything. Some people think their behavior should change, that they should quit street fighting."
Love, Microsoft Style?
Although the software giant's image seems tarnished, a brighter future might still lie ahead.
"What we've seen over the last couple years is a kinder, more gentle Microsoft," Gartenberg said. "Bill Gates is warmer and fuzzier. They're really trying to put forth the notion that they're trying to help people, not be an evil empire."
The overall feeling toward Microsoft might already be changing, he added.
"When it comes to popular opinion, I don't think there's as much of a widespread negative opinion as before," he noted. "There will always be a minority of people who would rather be tortured than use Microsoft, and that's why, for those people, God invented Macintosh."
Microsoft declined to comment for this story.