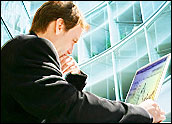 Fewer people are thumbing through newspapers, but more than ever are clicking on them, according to the latest industry findings — and that trend appears to be on an upward spiral, with no end in sight.
What it means to newspapers' profitability, however, remains a mystery.
Newspaper Web sites attracted a record audience in 2007, with an average of 60 million unique visitors each month, according to data compiled by ACNielsen's online tracking network and released Thursday by the Newspaper Association of America.
That edged out 56.4 million monthly visits in 2006.
Newspaper Web sites set a monthly record in October, when more than 63.2 million visitors logged onto the sites, the NAA said. That was 8 percent over the same period in 2006.
Online visitors averaged about 43 minutes on newspaper sites per month, compared to 41 in 2006.
The Audience Is There
"It's showing that there is an audience there, certainly," said Mike McGuire, vice president of research for the media industry at Gartner.
However, raw numbers don't really tell the full story — particularly whether newspapers are profiting from the uptick in visits to their sites, McGuire told the E-Commerce Times.
"The challenge is how papers can effectively monetize that," he said. "There is a concern that a lot of people expect ad-supported content to be free."
The industry has indeed trended away from paid subscriptions on the Web. Most notably, The New York Times last fall ended its two-year experiment with online subscriptions to parts of its Web site.
Even The Wall Street Journal is toying with moving away from a subscription-based model, McGuire noted.
"Rupert [Murdoch] is looking at an ad-supported model," he said. "What it's showing is that there is an audience there. There are people who are accessing [news on ad-supported Web sites]. "I think Financial Times is taking down some of its subscription requirements."
Logging On for News
Thirty-eight percent of all active online users logged onto newspaper Web sites in 2007, the NAA data reported, compared with 36 percent a year earlier.
"We've seen a growth of people canceling [print] subscriptions," said Anne Thomas Manes, a research director for Burton Group, "but, there are lots of exceptions. I think, still, lots of people get the paper at their house. Plus, if you're spending any time during a commute, it's always nice to have that newspaper with you."
The New York Times led all other newspapers in online readership. The Washington Post, USA Today, The Wall Street Journal and the Los Angeles Times rounded out the top five.
Most visits averaged fewer than 20 minutes per stop at the most popular newspaper sites — for the others, the average stay was much shorter.
"We call them 'content foragers,'" McGuire said. "I can get you to all this type of content without forcing you to switch a platform. These are active consumers who want to make that content part of their discourse."
More Features, More Viewers
Features like external links, blogs and videos have helped attracted information-hungry Web browsers to newspaper sites, according to McGuire.
"People want to link to stuff," he said. "The challenge is always how do you continually [engage] those readers online? It's a great opportunity to involve readers, because in the old days, the only way you and I could comment would be in the form of a letter to the editor. So, these consumers are looking for ways to insert their own view."
Whatever online model newspapers choose, Manes said, they need to find some way to counteract falling ad revenues, which have been slipping on the print side of the business.
"The primary source of revenue is from advertising … , not from subscriptions," Manes said. "As long as you get the eyeballs, people are willing to pay for the advertising. It's just important for the papers to shift their model, so they're working the way the industry is going."
The trends look positive from the newspapers' perspective, but those trends are likely to continue only if they keep their product relevant to the needs of readers, McGuire said.
"A big challenge is, how do you transition people who were used to this physical thing?" he said. "A lot of that is seeing papers evolve — how they lay out the Web site, how you navigate — and there's some interesting technological challenges there."