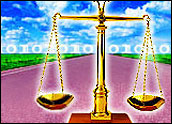 Two executives from Village Voice Media, parent company of The Village Voice and other alternative newspapers, were arrested Thursday night on a misdemeanor charge for revealing in The Phoenix New Times that they had been subpoenaed for a raft of reporters' notes and documents as well as information about online visitors to The Phoenix New Times' Web site.
The executives, CEO Jim Larkin and Executive Editor Michael Lacey, were released on Friday. Lacey "vows to fight on," according to staff blogs on The Phoenix New Times site.
'America's Toughest Sheriff'
The special prosecutor that issued the subpoena is investigating The Phoenix New Times' decision more than three years ago to publish the home address of Maricopa County Sheriff Joe Arpaio on its Web site as part of a series of stories about his real estate dealings.
Republican sheriff Arpaio, first elected in 1992, describes himself as "America's toughest sheriff" and is famous for housing jail inmates in tents and requiring that they wear pink underwear.
Information requested in the Aug. 24 subpoena includes all documents relating to four stories about Arpaio, along with the IP addresses of Web visitors who read those stories online and hit counts.
It also demands details about all visitors to The Phoenix New Times site since 2004, including their IP addresses and domain names; information obtained from cookies, such as site preferences and the contents of their electronic shopping carts; which sites they had just visited before accessing The Phoenix New Times site; the dates and times they visited; and the browsers and operating systems they used on their computers.
Language in the subpoena also states that "disclosure of any matter attending a grand jury proceeding, including disclosure of your receipt of or compliance with this subpoena, is a crime."
'The Last Option'
Lacey and Larkin, in their Thursday story titled "Breathtaking Abuse of the Constitution," suggested they were worried about the consequences of revealing information about the subpoena.
"It is, we fear, the authorities' belief that what you are about to read here is against the law to publish," they wrote. "But there are moments when civil disobedience is merely the last option. We pray that our judgment is free of arrogance."
Lacey and Larkin also asserted their plans to resist. "In 1970, we started this newspaper because we believed in the public's right to know," they concluded. "Nothing has changed."
Not surprisingly, the case is the focus of growing media attention, with discussion and debate surrounding the legal issues, freedom of the press, and privacy concerns for online readers.
A Wake-Up Call
"It is absolutely unbelievable," Paul Stephens, policy analyst with the Privacy Rights Clearinghouse, told the E-Commerce Times. "It is certainly frightening to think that when you go online and visit a Web site anonymously and in an entirely legal fashion — just reading a news article — that subsequently your IP address might be revealed to law enforcement."
The case is a good illustration of why privacy advocates believe Web sites should purge visitor information after the visit ends, Stephens added.
"I think this will serve as a wake-up call to a lot of people," he said. "Once this gets more heavily publicized, people will begin to think twice about their Web surfing habits. It will have a chilling effect on people doing perfectly innocent and innocuous things on the Web."
Unusual Subpoena
It's unusual to have language in a subpoena suggesting that simply revealing the existence of the subpoena is illegal, Sean Kane, attorney with Drakeford & Kane, told the E-Commerce Times.
"I've never seen a subpoena with a provision like that," Kane said. "I could potentially understand if it was part of an ongoing criminal investigation where disclosure of the subpoena could interfere with the prosecution of the case, but outside of that, I've never seen anything like this."
Rather, most subpoenas state simply that if the receiver fails to comply with the requirements of the subpoena, they can be held in contempt of court, he said.
"There will be an interesting play here between the press's freedom to report something and the investigation's right to move forward smoothly in secret," Kane noted. "There's a lot of case law that the press are allowed to publish things that are newsworthy, so it's going to be a tough argument for the prosecuting party to make on this."