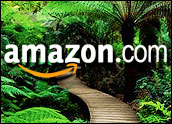 Amazon is getting ready to sell the one consumer product it doesn't already offer: digital music.
The company is reported to be in advanced talks with four major music companies as it seeks to set up a digital music service that could rival iTunes.
Amazon is negotiating with Vivendi Universal's Universal Music Group, Sony BMG, Warner Music Group (WMG) and EMI Group, according to news accounts.
The service is expected to be launched this spring. Some ideas the company is said to be considering include a subscription service and the sale of a discounted portable music player, marketed under the Amazon brand.
Fragmented Market
It might take more than what Amazon has in the works to break Apple's firm grasp of the digital music market. Thus far, the a la carte music download initiatives launched by other firms have met with little success, Yankee Group analyst Nitin Gupta told the E-Commerce Times.
"It has been difficult for competitors to displace Apple because they haven't offered anything different," Gupta said. Then there is the iPod factor. Now Apple's leading product, the iPod accepts music only from iTunes.
Also, the idea of a subscription music service — floated by other digital music providers at various points over the last few years — has not taken off at all with consumers, he added. "Rented music is a hard concept for consumers to grasp. The appeal, right now at least, is very limited."
Mix and Match
Would-be competitors keep on trying, lured by the rapidly growing online entertainment market. U.S. consumer spending for on-demand gaming, music and video services will grow by 260 percent in the next five years, according to "Digital Lifestyles: 2006 Outlook," a new study from Parks Associates. Revenues will grow from US$2.4 billion in 2006 to nearly $9 billion in 2010.
Amazon has a better chance than some of its predecessors to break into the digital music space, thanks to its huge brand name recognition, extremely high volume of traffic and the many related products it also sells on its Web site. The cross sell and upsell marketing opportunities alone may put Amazon within striking distance of iTunes.
The company could differentiate itself by incorporating its other retail lines into its music service, Gupta suggested.
It could, for example, offer discounted CDs to lure subscribers. "Amazon has the ability to bring something new to the table by mixing and matching its online music service and physical distribution capabilities," he pointed out.
Apple Was First
Still, it will not be easy to dislodge Apple, which has its own entrenched brand name appeal.
"Apple was there first. They provided an elegant solution and a vertically integrated solution that works very well," Gupta remarked.