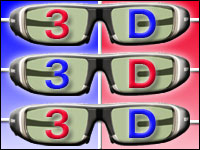 Cablevision broadcast the first high-def 3-D television program in the U.S. Wednesday night, a hockey game from Madison Square Garden.
The broadcast was largely symbolic — almost no one is watching TV in 3-D in their homes yet as television sets equipped to decode the signals are just beginning to move through production.
Still, it marks an important milestone that will lead to sales of 50 million 3-D televisions in just five years' time, according to Insight Media.
"This is kind of a historic night," Insight President Chris Chinook told the E-Commerce Times earlier on Wednesday.
Questions Remain
Despite the hype, there's plenty to cloud the 3-D vision of television manufacturers that announced plans this year to begin pushing the high-tech sets hard in 2010, as well as content providers — such as ESPN and Discovery — that have announced they plan to start channels dedicated to the format.
Those uncertainties include whether consumers will want to step up to the new 3-D formats, which have been widely praised by analysts but still require expensive sets and clunky 3-D glasses. There's also little agreement on a standard for 3-D broadcasts, meaning confusion for consumers who will have to match up the encoding technology chosen by their television providers with a set that can decode that signal, Chinook said.
Consumers might not yet be ready for mass adoption of the format so soon after stepping up to fancy high-definition sets, noted Jeff Kagan, an independent industry analyst who tracks cable and IP TV technology.
"The question is how much will this cost," he told the E-Commerce Times, "and will customers find it of enough value to make the market worthwhile?"
Adoption Will Come
The natural churn in the market as consumers seek to replace aging sets, add sets to new rooms, and make first-time purchases will be enough to spur significant sales of 3-D-enabled sets, Chinook maintained.
"I'm going to buy a new TV anyway, so do I buy a 3-D or not?" he asked. "It's just a normal upgrade question."
Wednesday night's broadcast of the NHL contest between the New York Rangers and the New York Islanders kicked off Cablevision's deal to use the RealD format to encode the 3-D signals it broadcasts to customers.
RealD Format
Cablevision's technology is the most broadly compatible encoding scheme available, the company claims.
So far this year, RealD has announced deals to integrate its technology into Panasonic, Toshiba and Samsung televisions, and it is working with DirecTV on bringing 3-D to that satellite provider's customers.
However, it's not the only technology, and some confusion could slow adoption rates as cable and satellite operators pair up with providers that offer encoding that can be used only with specific televisions, Chinook said.
The industry is working on standards to make 3-D TV more broadly compatible, he said.
Big-Screen Dreams
Consumers left with headaches and poor experiences with early 3-D experiments are changing their minds as they become more familiar with the newer generation of 3-D movies at theaters, Chinook said, and they are likely to eventually want that sort of experience at home.
It's unlikely consumers will ever sit around wearing funny glasses to watch the evening news, though.
"It's going to be event TV," said Chinook.