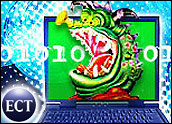 Monster Worldwide, the parent company of leading online job recruiter Monster.com, shook up its management team Wednesday, and in the process has shed a little stock value.
Shares lost about a dollar over most of the Thursday, rebounding a little from a low of US$44.40.
The news that seemed to spark the slide focuses on new management additions for the company as well as a pair of high-profile resignations. Chief Financial Officer Lanny Baker resigned, Monster said, in order to pursue other career opportunities and business interests. The same goes for Doug Klinger, formerly president of careers, North America. Monster expects to see a $3 million hit in the second quarter of 2007 related to the executive departures.
Monster, which has been dogged by stock backdating issues, in April appointed a new chief executive officer, Sal Iannuzzi, who is also a chairman for the company. It's not unexpected for a new CEO to make changes, of course, but Monster has also been the subject of rumors of a possible takeover bid.
New Power Players
Timothy T. Yates will join Monster's executive management team as executive vice president and CFO, and as a member of its board of directors. Yates previously held the CFO position at Symbol Technologies, where Iannuzzi was CEO before he came to Monster. Yates, in his new role at Monster, will oversee the company's accounting, tax, treasury, business development and investor relations activities.
Under the new structure, Steve Pogorzelski, formerly group president of Monster's international group, has been named executive vice president of global sales and customer development. He is responsible for the company's enterprise, field, telesales and e-business channels on a global basis, Monster reported. Monster has previously successfully expanded its international business, of which Pogorzelski had a hand in.
Brad Baker, formerly president of product, technology and service, was named executive vice president of product, marketing and customer service. He will continue to lead Monster's overall product development initiatives and customer services area and will assume responsibility for all of Monster's marketing resources on a global level.
Darko Dejanovic, who recently joined Monster as senior vice president, global chief information officer, was named executive vice president, global chief information officer, and he will assume the responsibilities for technology from Brad Baker.
Mark Stoever, formerly senior vice president, general manager will continue to oversee the Internet Advertising & Fees division as executive vice president.
Position of Strength
"Monster Worldwide has experienced significant growth and has evolved into a true global business. We are fortunate to make this important realignment from a position of strength," Iannuzzi said. "Our goal is to build a company that can produce value-added, innovative solutions for our customers and sustainable growth for our shareholders over the long term."
Monster has been doing well internationally, Pacific Crest Securities Analyst Steve Weinstein noted in a May research report. Pacific Crest expects Monster to continue to grow its international revenue despite a beefed-up deal between Microsoft and online jobs competitor CareerBuilder.
In fact, recent acquisition speculation has helped drive up Monster stock, noted Weinstein. However, he added, "While we have no specific knowledge about a possible sale, Microsoft's deal with CareerBuilder removes one of the potential bidders."
Is the Shaking Over?
Aside from acquisition rumors, the biggest question centers around the stability of the company. Will Monster look to bring in any additional new upper-level management talent? Or is the company ready to roll?
"The new management team announced by Monster Worldwide will be in place for the foreseeable future," Rich Teplitsky, director of global corporate communications for Monster, told the E-Commerce Times.