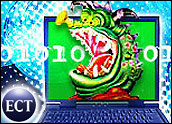 Almost since its inception, Monster.com has been the biggest job board on the Internet and number one stop for job seekers in Cyberspace. Yesterday, the Web site, which is the flagship of Monster Worldwide, announced two moves designed to maintain its stature as the leading career site on the Internet.
First, Monster pulled the wraps off improvements to its Web site. Second, it launched a new marketing blitz aimed at altering how job seekers relate to the Big Board.
Monster's latest moves are fashioned to accommodate a cultural shift in society, contends Senior Vice President for Marketing John Kelley. "We've gone from talking about lifetime employment to lifetime employment search," he told the E-Commerce Times.
More, Better, New
"Monster has a great opportunity as the industry leader to really develop a strong and personal relationship with our customers, to be a trusted ally and advocate for them in overall career management — as opposed to just a place to search for jobs," he said.
New or improved features added by Monster to its site include:
A streamlined resume builder that has reduced the process of creating, posting and updating a resume into three easy steps;
More customization with users now able to configure their career pages to deliver continuously updated content segmented by area of interest, guidance from numerous experts across multiple fields, and real-time status specific to each individual job search;
Refined job searching with conditions such as keyword, ZIP code/radius, job location, job category, salary and job status (for example, full time, part time, per diem); and
An easier to navigate expert-driven career content section.
Celebrating the Individual
In addition, Monster has established its "Customer Central" service, a 24/7 live customer service center designed to provide job seekers and employers with world-class phone and online support any time of day, any day of the week.
While Monster believes the new "bells and whistles" it has added to its site are catering to job seekers desires, there are those who discount that notion. "My early intuitions about what people wanted were wrong," Craig Newmark, founder of the wildly successful and text-only Craigslist Web site, told the E-Commerce Times. "I thought people wanted bells and whistles. They don't."
Monster's new marketing campaign, which includes television ads that show its redesigned Web site, celebrates the individual doing a good job, Kelley said. "It celebrates the individual accomplishments and the satisfaction that people feel about doing a great job," he said. "It's very aspirational."
Not Competition Driven
He noted that market testing of the ads showed encouraging results. "We saw tremendous persuasion scores in terms of seeker intent to visit the site and post a resume," he revealed. "That speaks to the fact that this creative really brings our strategy to life."
Although Kelley dismisses Monster's latest moves as a response to competitive pressures, Scott A. Scanlon, CEO and chairman of Hunt-Scanlon Advisors, a human capital marketing research and staffing firm in Stamford, Conn., points out that Monster-type job boards are finding their business chipped away in many ways.
"There's a large amount of competition coming from corporate Web sites themselves," he told the E-Commerce Times. "If I'm looking for a tech job, I might go directly to an Intuit's Web site or a Hewlett Packard's."
Partner or Threat?
Another threat to large employment boards might be posed by job aggregators like Indeed.com, Scanlon maintained. With its simple interface and ability to troll the Internet for job listings, Indeed could become a Google for employment, he opined.
"That model, more than any other model that I've seen, really has an opportunity to become a leadership model in this space," he observed.
Indeed co-founder and CEO Paul Forster explained that his service was created to address a gaping hole in the online employment services market. "There are thousands of different places online for people to search for jobs, and job seekers are frustrated by the fact that it's not feasible to track so many different sources simultaneously," he told the E-Commerce Times. "We're making that easier for them."
He said that Indeed.com sees itself as a "partner" with job boards, not a threatening competitor. "We drive traffic to job boards," he maintained. "When a job seeker clicks on a job in our search, they're taken to the listing on the job board."
Fleeting Glory
Some industry insiders, though, believe any success an Indeed.com might have will be only fleeting.
"As the labor market moves from job scarcity to a shortage of qualified candidates, aggregated search models that only focus on the job seeker will become irrelevant," Yahoo Hotjobs Vice President for Marketing Marc Karasu told the E-Commerce Times via e-mail.
"We have found that employers often want the capabilities of job boards like Yahoo HotJobs, which allow recruiters resume database access," he said.