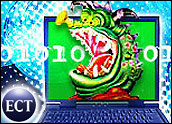 Monster Worldwide, parent company of the leading online career site in the U.S., said it would buy France-based Emailjob.com for US$26 million.
Emailjob.com, which was founded in 1998, was owned by the French division of worldwide trade show giant and business publisher Reed Elsevier Group, which is based in the UK. Monster said the firm had 2004 revenues of around $9 million and turned a profit.
Monster said it would pay $23 million at closing and another $3 million over the next year.
French Foothold
The deal gives Monster a stronger foothold in France and might offer opportunities for expanding in Europe by increasing the base of companies and employees that it works with.
Peter Dolphin, the CEO of Monster's European division, said the buy is aimed at what is expected to be increasing job changes among European workers. "When we consider that job migration is expected to increase significantly in Europe, acquisitions in such key markets as France will prove to be very significant for us," he said in a statement.
Monster shares rose 65 cents, or 2.4 percent, to $28.04 in morning trading on the Nasdaq.
Monster, which became synonymous with the rise of Internet stocks in the late 1990s as it grew from start-up by a college dropout to Super Bowl advertiser and category killer in a matter of months, has made no secrets of its plans to push into new markets through acquisitions.
Though it already has a presence in Europe, it is also eying emerging markets. Earlier this month, Monster said it would buy a 40 percent ownership stake in ChinaHR.com Holdings for $50 million.
Though it suffered from the dot-com collapse and the largely jobless recovery from the following recession, the company has quietly been turning in strong performances on the strength of increased recruitment activity and good results from its online yellow pages unit.
Strategy of Acquisitions
In the fourth quarter, in fact, Monster posted revenue growth of 45 percent over the year before and has consistently turned in profitable quarters.
Monster has long made acquisitions a central part of its strategy, making a number of purchases during the days after the dot-com bubble burst.
That same strategy helped create some formidable competitors, however, as Yahoo bought HotJobs.com to make a run at the market and several of the largest newspaper groups in the U.S. banded together to form CareerBuilder.com.
More recently, Monster has had to face the prospect of battling eBay after the auction giant took a minority ownership stake in Craigslist, whose city-specific sites are wildly popular with job seekers.
Despite the competitive threats from some online giants, Monster has held its own, still capturing more than a quarter of all traffic to job sites in the U.S., according to traffic measurement firm Nielsen//NetRatings.
However, those who watch the company say the overseas growth strategy has its share of pitfalls. Wachovia Securities analyst Mark Marcon said Monster's track record of getting the maximum out of its acquisitions overall has been "less than stellar."
"International operations are difficult even in English speaking countries," he wrote in a research note.
Online Leader
Meanwhile, Forrester Research analyst Charlene Li told the E-Commerce Times that Monster remains the leader in the online job market, which continues to eat into the classifieds advertising revenue at many newspapers.
Overseas markets, she said, not only offer opportunities for near-term growth, but might also provide longer-term insulation from economic ups and downs.
"International exposure should help get a company through the deep dips in employment in any single market," she said.