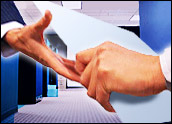 In a move that underscores the shift in classified advertising revenue from print to the Internet,The New York Times Co. on Wednesday announced a strategic alliance with Monster Worldwide to create cobranded job sites.
The deal calls for the two companies to create Web sites for 19 newspapers owned by The New York Times Co., including The New York Times, The Boston Globe, and a number of smaller papers in the Northeast, the Southeast and California.
The partnership will give those newspaper sites access to Monster features such as resume databases and keyword search tools. In addition, employers will be able to use a "click to print" option that easily and quickly converts online postings into geographically focused classified ads.
Specific financial terms of the deal were not announced. The new sites are expected to be live in March.
Competitors Come Together
The partnership create an "extraordinary" combination of "technology, reach and expertise," said New York Times Co. CEO Janet Robinson.
"Together with Monster, New York Times Co. will significantly increase our presence in the online recruitment space as we continue to provide quality solutions and considerable value for employers and job seekers," she added.
The partnership is significant because many newspapers view Monster and other job sites as competing directly for advertising dollars. Some papers build their own job sites to help maintain their ad revenue streams against more focused Web destinations.
Benefits for Both
For Monster, the deal offers a local reach that otherwise might not be possible, enabling companies and recruiters to drill down into local employment markets via the newspaper sites.
"The alliance significantly advances Monster's strategy to provide highly localized online recruitment and career services, allowing Monster to leverage its expertise and full range of solutions" with local news outlets, said Monster CEO William Pastore.
Getting local could help Monster attract a greater variety of job listings to its site, including positions that would, because of salary or other factors, only appeal to potential employees in specific locations.
Over the past year, Monster has actively signed deals with more than 60 daily newspapers.
On Wednesday, Monster and The New York Times Co. said the local job sites will feature geographically focused content from newspaper partners, as well as job-hunting advice from Monster.
Sign of the Times
Other Web companies have sought similar synergies, anticipating the growth of local advertising, search and other geographically focused services into important revenue sources.
For example, Google has struck a deal to offer advertising in 50 U.S. newspapers, and Yahoo Hot Jobs has also partnered with local media companies.
Classified advertising dollars, for decades a profitable revenue source for the newspaper industry, have moved from print publications to the Internet as readers increasingly rely on Web-based news organs for their information.
In addition, eBay offers an alternative to listing products for sale, sites such asCraigslist offer an alternative for locating apartments and services, and major job boards such as Monster and Hot Jobs have become the preferred destination for those looking for work.
A Sea Change
The shift of classified ads to the Internet is just one part of a major sea change taking place in the newspaper industry, JupiterResearch analyst Barry Parr told the E-Commerce Times.
"We're in for a period of innovation as newspapers try to figure out what they should look like when all the news they print is already online," he noted.
For instance, The New York Times has made aggressive moves into the digital world, buying theAbout.com Web site for US$410 million in 2004.
In some markets, the co-branded sites will have particularly strong market share.
For instance, in Boston, where New York Times Co.-ownedBostonWorks already has the market share lead, a combined BostonWorks-Monster site will have approximately 25 percent market share, based on recent Nielsen//NetRatings data.
The New York Times Co.'s shares rose more than 2 percent in the wake of the announcement, rising to $25.68. Monster Worldwide stock was also up, gaining about 1 percent to $53.21.