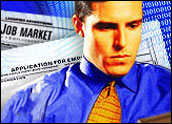 More job seekers than ever descended on employment Web sites during the first week of the new year, according to an online competitive intelligence service.
Visits to electronic emporiums for employment climbed 31 percent during the week of January 6 compared to the same period a year ago, Hitwise reported last week.
"Along with diet and fitness Web sites, employment sites experience an increase during the first week of January each year as the job force considers finding a new job as part of their New Year's resolutions," Bill Tancer, general manager of global research at Hitwise, said.
The top 10 employment sites during the period were Careerbuilder, with a 13.73 percent market share; Monster, with 11.51 percent; Yahoo HotJobs, with 5.3 percent; My Monster, with 4.13 percent; Job.com, with 3.12 percent; USAJobs, with 2.14 percent; America's Job Bank, with 1.9 percent; Indeed, with 1.89 percent; MSN CareerBuilder Network, with 1.32 percent; and Hewitt Associates, with 1.27 percent.
Resolutions Into Action
"Typically, you're always going to see an increase in January," Jennifer Sullivan, a spokesperson in the Chicago offices of CareerBuilder, told the E-Commerce Times. "It is one of the busiest job-search months of the year, as people put their New Year's resolutions into action.
"You see a lot of people making resolutions — I'm going to lose weight, I'm going to find a new boyfriend or girlfriend — and finding a new job tends to be at the top of those lists," she added.
As further evidence that changing calendars incite thoughts of changing jobs, Sullivan noted that visits to CareerBuilder increased 52 percent from the last week of 2006 to the first week of 2007.
Because employment sites expect the first quarter of the year to be their busiest time, they allocate their resources accordingly. "Typically in our marketing program you see heavy advertising in our first quarter," Sullivan explained. "There's advertising throughout the year, obviously, but in terms of television, you see more ads in the first quarter and then they come back in heavy volume in the fall."
Verticals Climb
Hitwise also reported significant increases in market share at vertical job search engine sites. Visits at Indeed, for example, zoomed 302 percent, year-over-year, from a 0.47 percent market share in 2006 to a 1.89 percent share in 2007; Jobster's share jumped 355 percent, from 0.11 percent to 0.50 percent; and SimplyHired.com climbed 68 percent, from 0.19 percent to 0.32 percent.
Paul Forster, co-founder of Stamford, Conn.-based Indeed, attributes much of the company's growth in market share to word-of-mouth marketing and site improvements during the year.
Indeed is a search engine for jobs. The mashup provides job seekers with a one-stop place to shop for career opportunities so they don't have to hop from employment site to employment site.
"We've really focused on providing job seekers with the best job search experience, particularly in terms of comprehensiveness, and in terms of relevance, making sure they get just the right jobs for their query," Forster told the E-Commerce Times.
Industry Mantra
Relevancy is becoming a bit of a mantra for employment sites at the moment. "What the industry is probably investing the most in is increasing relevancy," maintained Sullivan.
CareerBuilder has added a job recommendation engine to its Web site, she noted. When a returning job seeker arrives at CareerBuilder, new jobs are automatically suggested to them based on their resume and past searches performed at the site.
A similar tool is available to employers who use the site, she added.
The Web has become a honeypot for job seekers and employers, noted Sullivan. "You see it across all industries," she said. "It's been heavily adopted across a variety of industries, and there are jobs posted from a variety of levels. So whether you're going in for an entry-level position or a more senior 'C'-level position, the Internet is a vehicle that's being used for that."