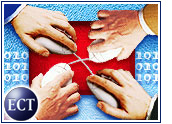 Community spirit does not exist only in the real world. EBay has it by the truckload. Amazon has some, too. And analysts and industry leaders say it is no accident that the companies with Web sites that make people feel like they belong have been among the most financially successful.
"Making a connection is a basic human need, no different than food or water," Michael Schutzler, president and CEO of Classmates.com, told the E-Commerce Times. "People need to connect with other people."
Strong Evidence
While community-building efforts cannot be assigned a specific ROI (return on investment) formula, analysts said sites that pull users into a community definitely reap financial benefits.
A recent study by McKinsey & Co. and Jupiter Media Metrix found that at some sites, regular users of bulletin boards and feedback areas generated two-thirds of sales, although they accounted for just one-third of all visitors.
Forrester Research reported similar findings, noting that 94 percent of sites that use community features said they boost repeat traffic and help generate nearly one-quarter of all site traffic — without adding significant advertising or marketing costs.
Hooked In
McKinsey analyst Shona Brown told the E-Commerce Times that users who post messages to a site's forum or contribute product reviews visit that site nine times more often than users who do not participate in community offerings.
"They also remain twice as loyal and buy almost twice as often," Brown said. "Even people who don't directly contribute, but do read those message boards, are more likely to come back and to buy. If they feel a connection, they're more likely to take the next step and become buyers."
Extensible Concept
Classmates.com seems to be living proof that Web users want connection with others.
After a few years of slow progress, the privately held company has averaged 400 percent growth over the past two years and now has 30 million members. Schutzler said his goal is to reach 100 million people worldwide by 2005. Classmates has been profitable since last fall and bills itself as the largest paid membership site online.
Schutzler said he believes Classmates' community aspects can be applied to many other online businesses.
"I think it's very extensible," he said. "Certain businesses make a natural fit, like genealogy, dieting and dating, but there are all kinds of potential synergies for making community and commerce happen side by side."
Making Sense
The key ingredient for success seems to be relevance, according to McKinsey's Brown.
For instance, eBay's message boards process thousands of postings every day, and almost all of them directly relate to helping buyers and sellers use the site more effectively.
EBay has tried to expand its community efforts into the offline realm, briefly publishing a magazine and flirting with a television series, but its online community has held together better than those initiatives.
Likewise, Brown noted, Amazon's community features consist of consumer-written product reviews intended to help fellow shoppers decide whether to buy an item.
Merchants and other sites can encourage community by rewarding frequent contributors and adding dashes of personality by listing biographies or showing photos of active community members.
Letting It Happen
But community cannot be forced. Many sites founded on pure community ideals, such as Theglobe.com, faltered, largely due to dependence on advertising revenue. Instead, the sites that leverage community to best effect make their efforts transparent, encouraging feedback and interaction without getting in the way, Brown said.
And the community connection must fit the overall commercial mission of a site.
"You can't just tack something on as an afterthought and think it's going to make people stay around," Epinions.com CEO Nirav Tolia told the E-Commerce Times. "But if people feel they are getting something of value and getting everything they need, they won't go anywhere else. Why would they?"
"Convenience is the ultimate value proposition," said Tolia.