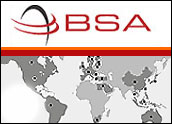 Software piracy dropped or remained steady in scores of countries across the globe in 2008, but the worldwide rate still rose, thanks to rising piracy in emerging markets, according to a report for the Business Software Alliance released Monday.
As usual, the report contained an ever-controversial estimate of what the BSA terms "losses" from software piracy: US$53 billion. It's the first time the figure has cracked $50 billion, BSA spokesperson Dale Curtis told the E-Commerce Times.
"It's kind of a mixed report card," Curtis said. "The good news is that piracy went down in about half of the countries studied. It remained the same in a third — and it only rose in 16 countries."
However, because those 16 countries include some of the fastest-growing global economies, the sheer weight of piracy in those places pulled the global average up about 3 percent, Curtis said.
The report was funded by BSA and prepared by technology research firm IDC. Its conclusions are based on models fed with data about the installed software load on computers in various countries, along with reported shipments of computers and new software units, Curtis said.
Job Losses, Tax Losses
The report found that software manufacturers lost $9.1 billion to piracy in the U.S. — the highest dollar figure of any country, despite the U.S. having the lowest software piracy rate in the world, at 20 percent.
The most improved country for piracy was Russia, where the rate of piracy has fallen 19 percent in five years, according to Curtis. Still, more than two of every three software installations are still pirated there, he said.
In addition to revenue losses, software piracy costs IT jobs, the report argues. For every $1 of software sold, another $3 to $4 goes to local IT service and distribution firms, the report claims.
The report also seeks to strike a chord with government leaders struggling with finding ways to pay for increasing demand for services, contending that reducing software piracy by 10 percentage points would generate $24 billion in tax revenues worldwide.
Free Alternatives
There's been a long-running debate over whether BSA's numbers exaggerate the true losses to software piracy, and this year's report has reignited it.
"It's very, very problematic to assume everybody in Vietnam would be paying $200 or $300 for a copy of [Microsoft] Office if only the government would stop them," Paul DeGroot, a licensing analyst with Directions on Microsoft, told the E-Commerce Times. "No, they'd be using OpenOffice."
OpenOffice is a free office productivity suite often compared to Microsoft Office.
Last year, a professor at the National University of Singapore, Ivan P.L. Png, took the BSA to task in a paper on the group's annual studies, suggesting that a change in consultants and study methodologies in 2003 had "systematic effects on published piracy rates," according to a copy of the paper available on the Web.
Dollar Amount Beside the Point?
BSA believes its figures are the best and most reliable in existence, Curtis said, adding that regardless, such criticisms miss the point.
Whether the loss is $53 billion, $43 billion or some other number, BSA's research clearly shows legitimate software sales fall when piracy increases, he maintained.
Those lost sales legitimately harm companies that have produced them, Curtis insisted. Many of those firms are members of BSA — which, in addition to researching and publicizing reports on software piracy issues, helps its member firms enforce software licensing agreements and fight piracy.
"Not every piece of pirated software would be replaced," said Curtis, "but a lot of it will."
The report's conclusions are based on mathematical models — not empirical data revealing specific instances of piracy, he acknowledged.
"It's based on a number of assumptions, yes," he said. "There's no other way to do it."