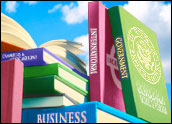 Borders, the national bookselling chain, launched its plan to sell the Kobo e-book reader and open its own e-book store on an increasingly crowded market Monday, apparently pinning its hopes on a slim price to mark out its territory.
The Kobo eReader will be available June 17, and the company's website quotes a newspaper article noting its US$150 price is markedly cheaper than other readers and a pittance compared to the Apple iPad.
Borders announced last year that it was investing in a partnership with Kobo to open joint e-book stores and provide content for multiple platforms so that books purchased from Borders could be read not just on one reader, but across many devices.
Borders didn't respond to the E-Commerce Times' request for comment on its plans, but prior announcements make it clear the company wants to focus on a strategy to provide lower barriers to entry for consumers who want to read books digitally, including a lower hardware cost and open-standards content.
Price the Differentiator
Relying on price isn't a bad strategy in attempting to lure casual readers who don't buy enough books to make the Kindle's $259 price tag or the $299 and up for Sony's full-sized readers, said Michael Norris, senior analyst with Simba Information.
"They don't want to lose the small but growing number of people who are purchasing e-books to Amazon or some other competitor," Norris told the E-Commerce Times.
It's far from clear whether Borders will be able to make waves with the device in the aftermath of Apple's debut of the iPad, however.
Apple's tablet may not make significant inroads into the e-book market because of its cost, suggested Norris, and because of the distractions of other options such as music and video available to the device.
Kobo Specs
The Kobo is 4.7 inhces by 7.2 inches, 0.4 inches thick and weighs less than 8 ounces. It uses e-ink technology to provide a low-eyestrain reading experience, and it provides up to two weeks of battery life, according to the company.
It has enough memory to store up to 1,000 books. An SD card slot offers additional memory. Five built-in font sizes are available. The Kobo displays the current book cover even when off, and it comes with a quilted back the company says "satisfies even finicky book lovers."
The device is designed to sync to a Borders-branded desktop app to sync content to other devices and shop for new books. The company's book store will launch with 1 million titles in June, and Borders is touting its open standards approach heavily.
Unlike the market-leading Kindle from Amazon, Kobo users will be able to move their books around freely, Borders said.
It also supports PDF files, so images can be viewed — but it is a grayscale device
The Kobo e-book reader is available for pre-order now, and Borders is offering free shipping.