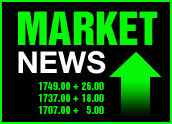 Blue Chip stocks roared to sizeable gains today, as investors set aside the worst reading on consumer confidence since the spring to focus on better prospects for the insurance sector.
The Dow gained 138.49 points, or 1.4 percent, to finish at 9,888.48. Most of the gain was attributable to jumps in insurance stocks, which moved higher after reports that no executives in the industry would face criminal charges in connection with an ongoing investigation into pricing practices. The S&P benefited from the surge, gaining 16.30, or 1.49 percent, to finish at 1,111.10.
The Nasdaq also posted gains, but they were far more modest in nature. The Nasdaq climbed 14.75, or 0.77 percent, to 1,928.79.
Shopping.com IPO
Helping the Nasdaq was the day's big initial public offering by Shopping.com. The comparison shopping site debuted early in the day at US$18 per share and closed just under $30 per share, a first-day pop of more than 60 percent, making it one of the top-performing IPOs of the year in terms of first-day gains.
But any excitement over the Internet stock failed to lift other boats in the sector, with Yahoo, Google and eBay all trading lower on the session.
In economic news that could have political ramifications as well with the presidential election now just a week away, the Conference Board said its consumer confidence index fell 3.9 points to 92.8 in October. That marked the lowest level since March and the third straight monthly decline.
Oil Prices
Economists blamed rising oil prices and relatively weak job growth and said the timing of the slump could put a damper on the ever-important holiday shopping season.
Oil futures were up again as well, with crude prices rising 63 cents to $55.17 a barrel in New York Mercantile Exchange trading.
The U.S. Department of Energy will release its weekly report on fuel inventories tomorrow, a report that has caused massive fluctuations in future prices in the recent past.